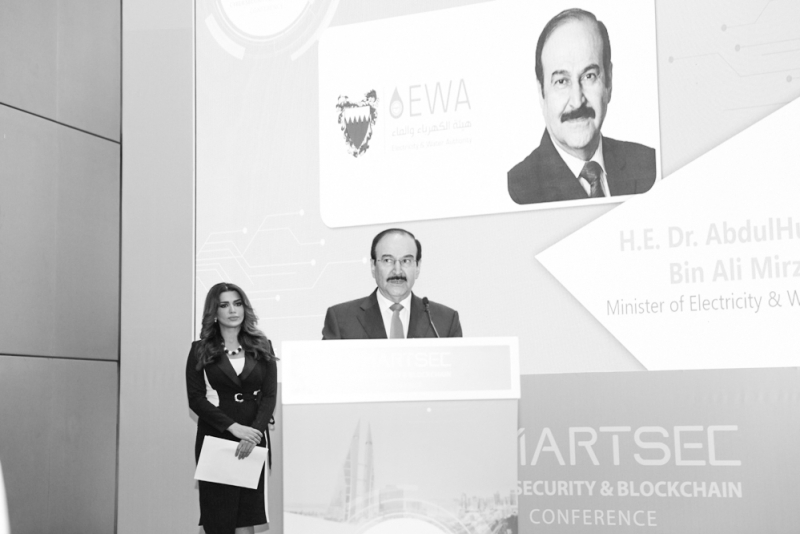 Minister urges Bahraini talents to explore blockchain technology
Blockchain technology is a 'true mark of progress' and Bahraini talents and companies must take full advantage of it, a senior minister has pointed out.
The blockchain technology is one of the most important advancements in recent years and Bahraini talents must familiarise themselves with it and companies must take advantage of it, said Minister of Electricity and Water Affairs, Dr Abdulhussain Mirza who is also part of the Supreme Committee for Information and Communication Technology.
He was speaking as he inaugurated the SmartSec Cyber Security and Blockchain Conference 2018 yesterday at the Four Seasons Hotel Bahrain Bay. Cyber-security issues facing the region as well as the threats and opportunities from the development of the blockchain technology are being discussed during the conference which will extend till today.
"Technologies such as blockchain take us a huge step forward in finding a secure way to facilitate transactions. Blockchain's ability to protect user's data is a true mark of progress, especially due to the fact that it can be applied in different companies from different industries including cyber security," he said.
"This is the kind of initiative that we would like Bahraini companies to have so that innovation can arise amongst the great minds of this community. "Cyber-security is an essential part of our lives because most of our daily lives involve the use of technology in one way or another."
He said that the threat of international global cyber-attacks must not be taken lightly. "These global cyber-attacks affected more than 60 countries including Bahrain last year and the Central Bank of Bahrain recently issued a warning to banks and financial institutions of orchestrated attacks planned at ATMs around the world."
"The question of information security is very important when we conduct more of our lives digitally, we must ensure that the electricity supply that makes all this digital technology work safely and immune against cyber-attacks."