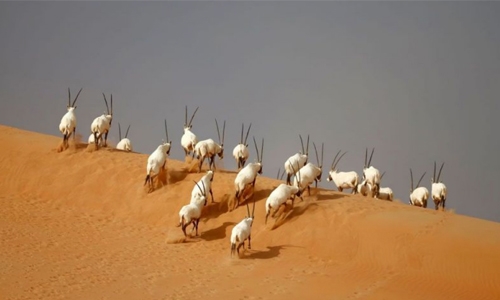 Haima : The Sultanate of Oman is looking to carve itself a new niche in ecotourism by opening up a sanctuary for one of the desert's most fabled creatures -- the Arabian oryx.
Once extinct in the wild, the rare member of the antelope family famed for its elegant horns has been dragged back from the precipice in a sprawling reserve fenced off for decades from the public.
That changed last month when authorities for the first time officially opened the sanctuary to visitors -- part of a broader bid by Oman to boost tourism as oil revenues decline. On a recent outing, wildlife rangers in SUVs patrolled the sandy plains of the reserve in central Oman's Haima province, spotting groups of grazing oryx and other indigenous species.
For years, the main goal has been a basic one -- ensuring the oryx can survive by focusing on "helping the animals here reproduce and multiply", said sanctuary spokesman Hamed bin Mahmoud al-Harsousi.
But now, as numbers have ticked up from just 100 some two decades ago to almost 750 today, the authorities began eyeing another role for the reserve. "There has been more interest in its tourism potential -- to take advantage of its uniqueness and rare animals," Harsousi said.
The story of the Arabian oryx -- sometimes referred to as the Arabian "unicorn" due to its distinctive profile -- is one of miraculous survival.
Hunted prolifically, the last wild member of the species was killed in Oman by suspected poachers in 1972.
The species only clung to existence thanks to a programme to breed them in captivity and in the early 1980s a batch of 10 were released into Oman's Arabian Oryx Sanctuary.
Since then, regenerating the oryx has been an often precarious process.
The Omani sanctuary sprawls over 2,824 square kilometre (1,100 sq miles) of diverse terrain -- from flat plains to rocky slopes and sandy dunes.
Its own fate has been nearly as tortured as that of the oryx it houses.
In 2007, the sanctuary became the first place ever to be removed from UNESCO's World Heritage list as the government of Oman turned most of it over to oil drilling.