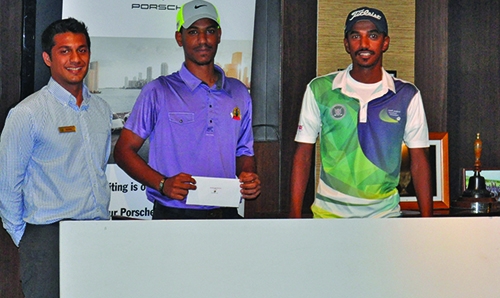 Daij, Al Merisi bag Monday Madness Golf in Bahrain
Manama: Khalifa Daij and playing partner Khalifa Al Merisi (25 points) won the penultimate competition of the six-week Porsche Monday Madness Night Golf Series at the Royal Golf Club, ahead of duo of Steve Foster and Eric Jansson (24) who came a close second, while youngsters Eid Adel Meftah and Saud Al Sharif (23) came in third with 23 points.
The win puts Daij and Al Merisi (9 points) in third place in the overall order of merit. Rob Lane and Nils Berge (9.5) in second spot with Ali Al Kowari and Yusuf Janahi (11) topping the leader board with just one more competition to go, all three pairings are in with a chance of winning the series.
Nearest the pin side contests on holes 12 and 16 were won by Sanjay Lal and Ali Al Kowari respectively.
Over 40 players took part in the better ball stableford tournament which was played under floodlights on the back nine holes of the Club's Montgomerie championship course. Porsche branded flags and the latest models of the Porsche Cayenne and Porsche 911 were displayed on the golf course for the duration of the competition.
Results: 1) Khalifa Daij/Khalifa Al Merisi (25 points), 2) Steve Foster/Eric Jansson (24), 3) Eid Adel Meftah/Saud Al Sharif (23), 4) Samantha and Steven Hill (22 on count back), 5) Ebrahim Al Harshel/Abdulla Al Hajji (22 on count back).
Nearest the Pins: Sanjay Lal (hole 12) and Ali Al Kowari (hole 16).