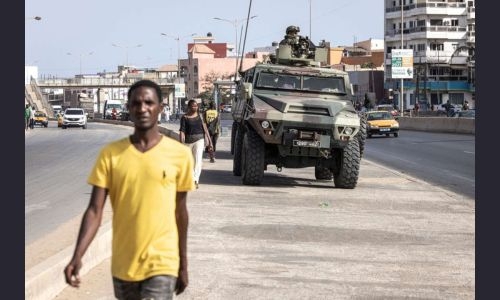 Heavy security presence in Senegal after deadly clashes
AFP | Dakar
The Daily Tribune – www.newsofbahrain.com
Senegalese authorities yesterday deployed security forces around the capital Dakar, a day after an outburst of violence left nine people dead following the conviction of opposition politician Ousmane Sonko.
Clashes erupted on Thursday after Sonko, President Macky Sall's fiercest opponent, was convicted for "corrupting" a young woman, in a case which has deeply divided Senegal, usually a bastion of stability in West Africa.
The ruling may disqualify Sonko from contesting next year's presidential election.
Yesterday, men in fatigues carrying rifles were stationed at various points in Dakar, where the streets were deserted and activity had virtually ground to a halt, AFP journalists observed.
AFP was not immediately able to identify which force they belonged to.
"While appealing for calm and serenity from our fellow citizens, the state of Senegal has taken all measures to guarantee the safety of people and property", Interior Minister Antoine Diome declared overnight after one of the deadliest days of political protests for years.
On Thursday, shops and public facilities were ransacked and the motorway between Dakar and the international airport was overrun with demonstrators.
Young people clashed with security forces, with stones and tear gas being thrown. The interior minister reported nine deaths on national television.
Shops remained closed yesterday along entire streets still bearing the scars of the previous day's violence.
There was extensive destruction on the main university campus, where prolonged clashes took place on Thursday.
Students with suitcases lined the streets outside the university, struggling to find transportation after being told to leave campus.