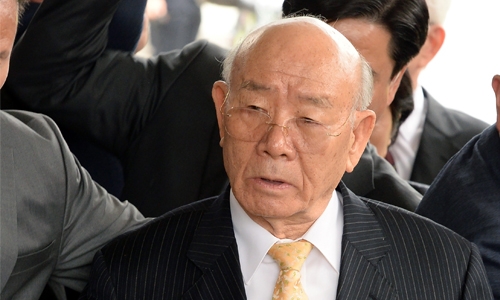 South Korea's former president Chun Doo-hwan dies at 90
Agencies | Seoul
The Daily Tribune – www.newsofbahrain.com
Former President Chun Doo-hwan, a general-turned-strongman died Tuesday at the age of 90.
Chun died at his home in western Seoul around 8:40 a.m. after battling blood cancer and chronic ailments, aides said.
His body will be taken to Seoul's Severance Hospital, said Min Jeong-ki, a former presidential secretary.
Chun's last wish was that his remains be buried "on a frontline high ground overlooking North Korean territory," Min said, adding Chun's body will be cremated before being buried at a site to be determined later.
The former Army general rose to power after staging a coup in the wake of the assassination of then President Park Chung-hee in 1979 and ruled the country until 1988.
Chun was born into a poor family in Hapcheon, South Gyeongsang Province, on January 18, 1931, and he entered the Korea Military Academy in 1951.
At the academy, he befriended Roh Tae-woo, who would later become his right-hand man and serve in various capacities during Chun's administration before being elected president himself and succeeding Chun.
Before becoming president, Chun enjoyed an illustrious career that included a stint at the state spy agency, the Army 1st Special Forces Group, which he headed, and as a member of Park's presidential security service, Korea news agency Yonhap reported.
At the time of Park's assassination in October 1979, Chun was chief of the Defense Security Command and led an investigation into the case.
In December, he took power in a coup staged with Roh's help.