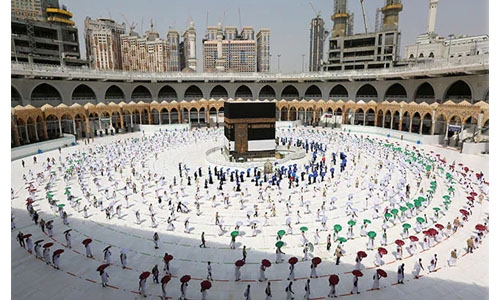 TDT | Manama
The Daily Tribune – www.newsofbahrain.com
Hundreds of pilgrims yesterday arrived in Mecca, heralding the start of the Hajj pilgrimage, which this year will allow only a select 60,000 people. Hundreds of Muslims arrived at the al-Zaidi station in Mecca, where 1,770 buses took them to the Kaaba's courtyards after checking their permits.
After being loaded on buses and brought to Mecca's Grand Mosque, pilgrims began performing the "tawaf", the circumambulation of the Kaaba.
Many carried umbrellas to protect themselves from the scorching summer heat.
"Every three hours, 6,000 people enter to perform the tawaf of arrival," hajj ministry spokesman Hisham al-Saeed said.
"After each group leaves, a sterilisation process is carried out at the sanctuary."
Ahead of their pilgrimage, the pilgrims downloaded the Shaaer Smart Card mobile app, which allows them to rate Hajj services, access transportations, and smart gates, among others.
Saudi authorities said they hope to repeat the success of last year's Hajj, which allowed only 10,00 people, residing in Saudi Arabia.
Social distancing is enforced at all times to ensure the pilgrims do not contract the coronavirus. Robots are stationed around the courtyards of the Kaaba to spray sanitiser throughout the day.
Robots are also serving holy Zamzam water to pilgrims and workers.
Saudi Security officials said they fined nine people $2,666 for attempting to perform the holy pilgrimage without a permit.
The offenders were found in the Mina district of Mecca, otherwise known as the 'tent city,' which houses pilgrims each year.
Sami al-Shuwairekh, the Hajj security spokesperson, in a statement carried by SPA, warned against attempting to reach holy sites without valid permits.