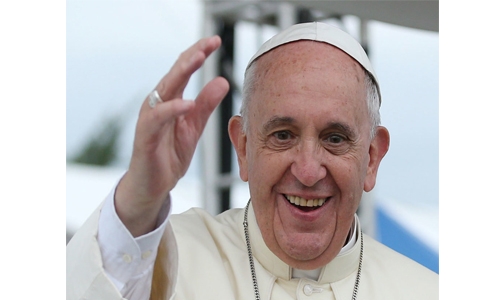 Pope urges Iraqis to shun past violence and give peace a chance
TDT | Manama
The Daily Tribune – www.newsofbhahrain.com
Pope Francis, beginning the first trip by a pontiff to Iraq, made an impassioned call on Friday for an end to the militant violence and religious strife that has plagued the country for decades, saying peacemakers should finally be given a chance.
"May the clash of arms be silenced ... may there be an end to acts of violence and extremism," he said, addressing Iraqi President Barham Saleh, politicians and diplomats at the presidential palace.
Pope Francis arrived at Baghdad airport under tight security, after telling reporters on his plane that he felt duty-bound to make the "emblematic" trip because the country "has been martyred for so many years".
Hundreds of people gathered in small clusters to see him being driven into Baghdad in bulletproof BMW, a departure for a pope who normally insists on using small, normal cars.
As Francis and the president walked together, the 84-year-old pope limped noticeably, indicating that his sciatica may have flared up again. The condition forced the pope to cancel several events earlier this year.