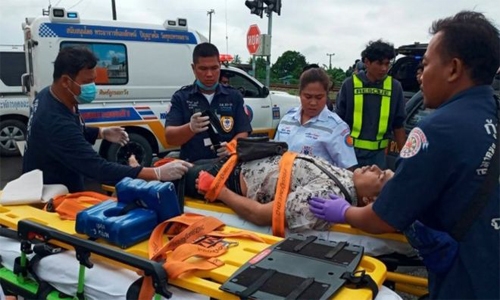 18 die in Thailand bus-train collision
BBC News
At least 18 people were killed dozens more injured when a bus collided with a train in Thailand, officials say. The crash happened this morning, 50km (31 miles) east of Bangkok.
Thai police said passengers inside the bus were on their way to a temple to mark the end of Buddhist Lent. The bus was reportedly upturned on its side, heavily damaged and objects scattered along the train tracks and rescue workers needed a crane to be able to lift it. There were 60 passengers travelling in the bus at the time of the crash.
Thai Prime Minister Prayut Chan-O-Cha gave his condolences and called for a thorough investigation.
Traffic collisions are common in Thailand, with poor safety standards and busy roads thought to be key factors. A 2018 report from the World Health Organization (WHO) said Thailand had the second-highest traffic fatality rate in the world. In March 2018, at least 18 people died and dozens wounded when a bus in north eastern Thailand swerved off the road and smashed into a tree. At least three people were killed in 2016 when a train collided with a double-decker bus carrying tourists at an unguarded railway crossing west of Bangkok.