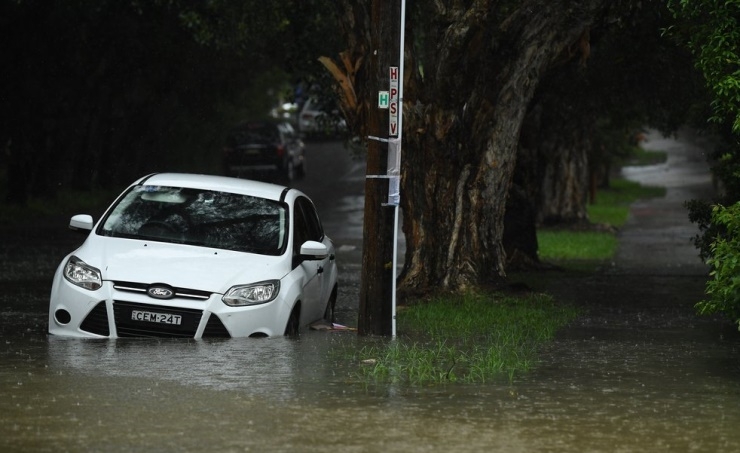 Heavy rain hammers Australia's east; cyclone weakens in the west
Heavy rain and floods continue to pummel parts of eastern Australia on Sunday, while severe tropical cyclone Damien has weakened in the country's north-west.
In New South Wales, severe weather conditions have caused heavy rain, damaging winds, abnormally high tides, damaging surf, and severe flash and river floods in many parts of the state, the Bureau of Meteorology said Sunday.
Bush fires have wreaked havoc in New South Wales since September. The state had also suffered severe drought for the past two years, according to Deutsch press agency (dpa).
"It's wet out there!" the weather bureau said on Twitter, adding the heaviest rainfall was in Linden in western Sydney, which saw 112 millimeters of rain in the five hours to 2 pm (0300 GMT) Sunday.
The weather bureau said large sea waves with the largest recorded height of almost 14 meters were occurring off Sydney. Flash flood warnings were issued for more than a dozen places.
At least 80,000 homes are without power due to the severe storms, according to two utility companies - Ausgrid and Endeavour Energy.
Some roads have been swept away in floods, Australian broadcaster ABC said, while part of the major Great Western Highway was closed for several hours due to a fallen tree.
The State Emergency Service has responded to more than 3,300 requests for assistance since Wednesday when the rains started, Commissioner Carlene York told reporters in Sydney on Sunday.
Cyclone Damien, which hit Western Australia's northern coastal Dampier-Karathha region on Saturday evening with a category three storm, weakened to category one as it moved inland.