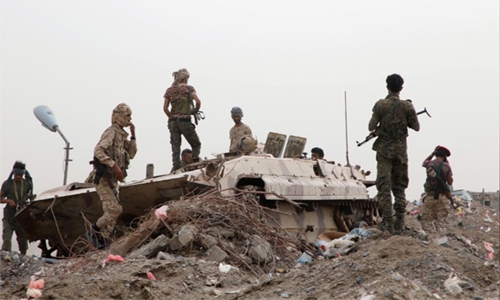 Yemeni government and Coalition call for Aden ceasefire
The Yemeni government and the secessionist Southern Transition Council yesterday called for a ceasefire after the movement seized the presidential palace in Aden on Saturday. Saudi Arabia and the UAE also called for an end to the fighting and a meeting between the sides. Shaikh Abdullah bin Zayed, Minister of Foreign Affairs and International Co-operation, said the UAE was "exerting all efforts to calm and de-escalate the situation".
Shaikh Abdullah said that the two camps should focus their efforts on fighting the Houthi rebels instead of each other. Saudi King Salman met President Abdrabu Mansour Hadi, Gen Ali Mohsen Al Ahmar and Prime Minister Maeen Saeed on Sunday to discuss the developments in Aden. They "reviewed the close brotherly relations," the staterun Saudi Press Agency reported.
On social media, Adel Al Jubeir, Saudi Arabia's Minister of State for Foreign Affairs, said: "The Kingdom calls on the Yemeni leaders in Aden to respond to the appeals of the Yemeni people, prioritise Yemen's national interest and immediately withdraw from all positions it seized in Aden." The Yemeni government and the council said early yesterday that they backed the calls for dialogue and a suspension of fighting in Aden.
The government "affirms its commitment to respect the call of the Saudi-led coalition to a ceasefire", a statement said, as the STC expressed its "full commitment to a ceasefire". The STC's spokesman said on Saturday that the situation was stable and the council was working to restore the water network that was damaged in fighting. The Coalition forces intervened in Aden yesterday against "a direct threat to one of the important sites of the legitimate government", it said yesterday. It called on the STC to withdraw from its positions in Aden.
The coalition intervened in Yemen in 2015 to back the internationally recognised government of President Abdrabu Mansur Hadi after Iran-backed Houthi rebels seized the capital and pushed south. With the coalition's support, pro-government forces, including the STC-affiliated fighters, have pushed the Houthis out of Aden and much of the south. But the STC has long demanded greater autonomy and for a return to the partitioned Yemen that existed between 1967 and 1990.