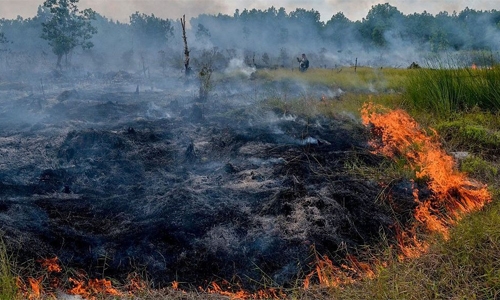 Tropical forest the size of England destroyed in 2018: report
Last year humanity destroyed an expanse of tropical forest nearly the size of England, the third largest decline since global satellite data become available in 2001, researchers reported yesterday. The pace of the loss is staggering -- the equivalent of 30 football fields disappearing every minute of every day, or 12 million hectares a year.
Almost a third of that area, some 36,000 square kilometres (14,000 square miles), was pristine primary rainforest, according to the annual assessment from scientists at Global Forest Watch, based at the University of Maryland. The main drivers are the livestock industry and large-scale commodity agriculture -- palm oil in Asia and Africa, soy beans and biofuel crops in South America. A quarter of tropical tree cover loss in 2018 occurred in Brazil, with the Democratic Republic of Congo and Indonesia each accounting for about 10 per cent.
Malaysia and Madagascar also saw high levels of deforestation last year. Nearly a third of primary forest destruction took place in Brazil (13,500 km2), with the Democratic Republic of Congo (4,800 km2), Indonesia (3,400 km2), Colombia (1,800 km2) and Bolivia (1,500 km2) rounding out the top five.Madagascar lost 2pc in 2018.