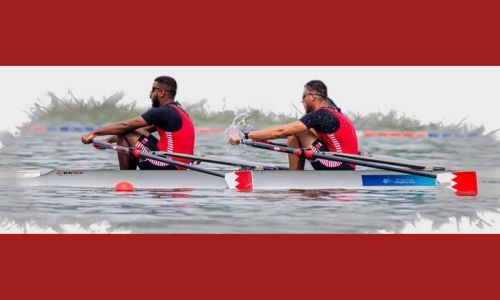 Rowers make historic Asiad debut
TDT | Manama
The Daily Tribune – www.newsofbahrain.com
The Kingdom's top international rowers made their historic debut yesterday at the 19th Asian Games in Hangzhou, China.
The trio of Maryam Abdulhameed, Fahad Albanki and Omar Alhasan flew the Bahrain flag high at the Fuyang Water Sports Centre but came up short in their bids for direct qualification to the ensuing rounds of their respective competitions.
Despite this, they still have another shot today of going through. Maryam did not advance to the women's single sculls semi-finals but will have a second chance in her event's repechage.
She was competing in the first of three heats yesterday and finished fifth overall. She had a time of 11 minutes 30.96 seconds, nearly four minutes from winner Anna Prakaten from Uzbekistan.
Joanie Delgaco from the Philippines was second and Wing Wun Leung from Hong Kong third.
In her repechage today, Maryam will be up against Haya Almamy from Saudi Arabia, Sehyeon Chae from South Korea, and Thi Duy Ho from Vietnam.
The first three advance to the semi-finals.
On the distaff, Bahrainis Albanki and Alhasan also could not make it past the first stage of the men's doubles skulls, but today will have another shot in their repechage.
Competing in the second of two heats yesterday, Albanki and Alhasan were sixth in their race, which they finished in a time of 8:14.76.
They were nearly two minutes behind the winners from Uzbekistan, while Iran and Iraq completed the top three.
In their repechage, Albanki and Alhasan will be going up against two-man crews from Thailand, Iran, Indonesia and South Korea.
The first two in each of the two repechage races today will advance to Final A, while the remaining crews go to Final B.
Rowing is one of the five sports Bahrain is competing in that begin their events before the Asian Games' official opening ceremony on Saturday.
Action in both volleyball and football have also gotten underway, while sailing begins today and table tennis tomorrow.