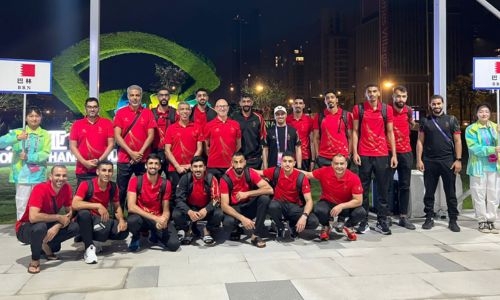 Bahrain begin Asian Games campaign
TDT | Manama
The Daily Tribune – www.newsofbahrain.com
The Kingdom of Bahrain gets its medal bid underway at the 19th Asian Games today with the volleyball and football teams starting their respective competitions in Hangzhou, China.
Bahrain's senior men's volleyball squad take on their counterparts from Nepal at 9.30am, Bahrain time, at China Textile City Sports Centre Gymnasium; while the Kingdom's under-23 Olympic football team face off with Thailand starting at 11am, also Bahrain time, at Jinhua Sports Centre Stadium.
Volleyball and football are among the 17 sports Bahrain are taking part in at this year's Asiad.
The others are athletics, handball, basketball, boxing, judo, weightlifting, wrestling, jiu-jitsu, rowing, shooting, cycling, table tennis, taekwondo, sailing, and e-sports. Both volleyball and football are among the sports that begin before the Asian Games' official opening ceremony, which is scheduled for Saturday.
The rowing team start their medal quest tomorrow, the sailing squad on Thursday, and the table tennis team on Friday.
In men's volleyball, Bahrain are competing in Pool B of the preliminary round with a 12-player squad, coached by Ruben Adrian Wolochin from Argentina.
The team is spearheaded by the Kingdom's top volleyball stars, including Mohammed Yaqoob, skipper Nasser Anan, Ali Ebrahim, Ayman Haroona and Mahmood Al Afia.
The Bahrainis also feature senior men's team mainstays Abbas Sultan, Ali Habib, Abbas Al Khabbaz and Hussain Mahdi; along with two of the national game's rising stars in Hussain Ehsan and Sayed Hashem Issa. "We enter our game with Nepal with high morale and with great ambitions to go far in this competition," said Anan.
"We want to raise the Bahrain flag high at the Asian Games, which requires us to focus on each match and give our best effort. "The first match is always important in any competition.
The Nepalese team will not be an easy opponent, and we need to play a great game to come out with a victory, which would give us an advantage to qualify for the next round." Following their opener against Nepal today, the nationals return to the court on Thursday to face Iran, also at 9.30am.
There are six groups in the preliminaries for men's volleyball. Pool A includes China, Kyrgyzstan and Kazakhstan; Pool C features South Korea, India and Cambodia; Pool D consists of Chinese-Taipei, Pakistan and Mongolia; Pool E includes Qatar, Thailand and Hong Kong; and Pool F features Japan, Indonesia, the Philippines and Afghanistan.
The top two teams from each of the six pools move on to the Round of 12, where a unique format will be followed.
There, the victors of the match between the Pool A winners and Pool F runners-up, as well as the victors of the game between the Pool B winners and Pool E runners-up, get a bye in the quarter-finals and go directly to the semis.
The other winners in the Round of 12 will compete in the quarters for the remaining two berths in the last four.
Importance In men's football, Bahrain's under-23 Olympic team assistant coach Ali Sanqoor stressed the importance of their contest today against Thailand, which would provide a boost for the rest of their campaign.
"We have a group of distinguished youngsters, and our roster has been reinforced with a pair of experienced players; we have great confidence in them to appear strong as we begin our Asian Games journey," Sanqoor added.
"We are aware of the potential and technical abilities of the Thai team and their players, and we hope to succeed in achieving a positive result and earning points in our match against them." Bahrain are in Group E for the first stage of the tournament.
They have a 22-player squad, coached by Dario Basic from Croatia.
They include youngsters Khalil Ebrahim Ahmed, Hasan Isa Juma, Ali Mohamed Redha, Ahmed Abdulhameed Hasan, Hussain Ali Aleker, Hassan Abdulnabi Ali, Sayed Jawad Alawi, Hani Taha Alharobi, Mahmood Mohamed Ali, Hussain Abdulkarim, Hussain Jaafar Haroona, Abdulla Nemer Almesaeed, Ahmed Dheyaa Ali, Abdulla Ali Alahmed, Abdulla Ali Alsubaiei, Mubarak Mohammed, Abdulla Al Khalasi, Salman Abdulla Qadhaib, Mohammed Abdulqayoom and Salman Adel Al Isa.
Their two veterans over the age of 23, as permitted by Asiad rules, are Sayed Mohammed Adnan and Ali Adnan Dhaif. Joining Bahrain and Thailand in Group E are South Korea and Kuwait.
The Bahrainis face their Kuwaiti counterparts on Thursday at 11am, then wrap up the preliminary phase against the South Koreans on Sunday.
There are 23 nations competing in men's football, divided into six groups. Group A features hosts China, Bangladesh, Myanmar and India; Group B comprises Vietnam, Saudi Arabia, Iran and Mongolia; Group C includes Uzbekistan, Syria, Hong Kong and Afghanistan; Group D consists of Japan, Palestine and Qatar; and Group F features North Korea, Indonesia, Kyrgyzstan and Chinese-Taipei.
At the end of a single round-robin, the top two teams from each group along with four best third-placers advance to the round of 16.