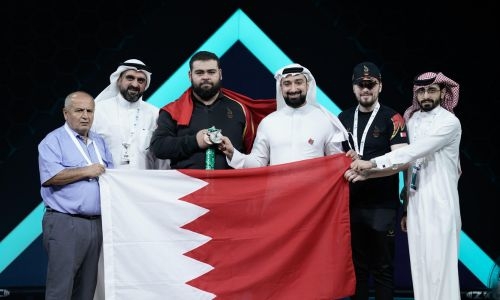 Bahraini superstar Minasyan clinches medal double at weightlifting worlds
TDT | Manama
The Daily Tribune – www.newsofbahrain.com
Bahrain's superstar weightlifter Gor Minasyan came away with a superb medal double at the World Weightlifting Championships 2023, held in Riyadh.
Competing in the men's +109kg category, Minasyan clinched silver in the snatch and a bronze medal for his total lifts. In the snatch, Minasyan posted a lift of 213kg, earning him second place.
Lasha Talakhadze of Georgia claimed the gold medal with a 220kg snatch, while Varazdat Lalayan of Armenia took bronze at 212kg.
Minasyan then took his bronze medal for his overall total of 459kg.
He had registered a clean and weight of 246kg, which put him in fifth in that ranking, which added to his 213kg snatch for the third-best aggregate.
Talakhadze won gold for the total at 473kg, while Lalayan clinched the silver at 460kg.
On the occasion of Minasyan's achievements, Bahrain Weightlifting Association (BWA) chairman Ishaq Ibrahim Ishaq congratulated His Majesty King Hamad bin Isa Al Khalifa and His Royal Highness Prince Salman bin Hamad Al Khalifa, the Crown Prince and Prime Minister.
Ishaq also extended congratulations to His Majesty the King's Representative for Humanitarian Work and Youth Affairs HH Shaikh Nasser bin Hamad Al Khalifa, and Supreme Council for Youth and Sports First Deputy Chairman, General Sports Authority Chairman and Bahrain Olympic Committee President HH Shaikh Khalid bin Hamad Al Khalifa.
Furthermore, Ishaq expressed his pride in the historic participation of Bahrain's Zainab Ali Abdulla as the Kingdom's first woman weightlifter to participate in the prestigious world championships, which are organised and run by the International Weightlifting Federation.
Zainab was amongst a field of more than 20 competitors in the women's 76kg category. She placed 17th overall with a snatch of 81kg and a clean and jerk of 107kg, for a total of 188kg.
At the end of the worlds, Bahrain finished as the top GCC nation on the ranking of countries to win total medals.
The World Weightlifting Champions h i p s 2 0 2 3 served as a mandato - ry event to qualify for the Paris Olympic Games 2024.