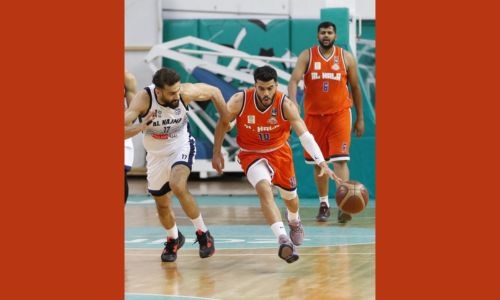 Hala through to Khalifa bin Salman Cup quarters
TDT | Manama
The Daily Tribune – www.newsofbahrain.com
Al Hala marched through last night to the quarter - finals of the 2022/2023 Khalifa bin Salman Cup.
Hala booked their berth following an 83-76 victory over Al Najma in the first round of the prestigious basketball tournament.
Hala used a strong fourth-quarter performance to take control of a close game.
They posted the final canto's first nine points while holding Najma scoreless for more than five minutes in the period.
Najma tried valiantly to stay in the contest and even got to within three with under two minutes to play on an Ali Jaber three-pointer, but could not get any closer.
Earlier in the game, Najma took a 24-17 lead at the end of the first quarter but Hala fought back to tie it at 43-apiece by half-time.
In the third, they powered ahead to take a slim 63-60 edge into the last quarter, where they extended their lead and held on until the final whistle.
American Tony Farmer finished with 31 points to spearhead Hala. He also took down 12 rebounds. Ahmed Khalifa added 20, while skipper Hussain Jan had 13 and Nader Ali 12.
For Najma, Nick Ward had 28 before fouling out while Jaber finished with 15 and 11 boards. Mohammed Buallay contributed 11 in the loss.
Hala are now set to take on a waiting Muharraq in the quarters.
Meanwhile, two other firstround fixtures will determine other teams that will be competing in the round of eight.
Defending league champions Manama will be playing Isa Town, while Bahrain Club and Samaheej are set to face off. Both games are scheduled for tomorrow night.
Elsewhere in the quarter-finals, three-time defending champions Al Ahli are set for an exciting clash against Al Ettihad, while Nuwaidrat will be taking on Sitra.
The Nuwaidrat-Sitra clash is scheduled for tonight at 9.30pm, while the Ahli-Ettihad affair will be played on Saturday.
This year's competition is the seventh edition of the Khalifa bin Salman Cup, which is held in honour of the late His Royal Highness Prince Khalifa bin Salman Al Khalifa.
The tournament was launched in the 2016/2017 season, and Muharraq were the first winners.
Manama then claimed the trophy in 2018, and then Riffa took the crown the following year.
Ahli have then won the title every year since.
They will be looking to add to their triumphs in 2020, 2021 and 2022 with an historic "four-peat" this season.