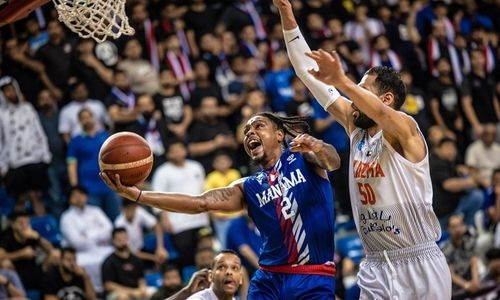 Bahrain's Manama bow to Kuwait's Kazma
TDT | Manama
The Daily Tribune – www.newsofbahrain.com
Bahrain's Manama Club bowed to Kazma of Kuwait 69-83 last night in game one of their best-ofthree qualification series to the semi-finals of the Gulf sub-zone in the 2022/2023 FIBA West Asia Super League (WASL).
Manama were in control early but could not hold on to their momentum over the rest of the game, which was played at a packed Zain Basketball Arena in Um Al Hassam.
Bahrain Olympic Committee vice-president His Highness Shaikh Isa bin Ali bin Khalifa Al Khalifa attended the contest along with Bahrain Basketball Association president Captain Waleed Al Alawi and other officials.
Manama took a commanding 30-17 lead at the end of the first period but were held to just eight points in the second as Kazma tied it at 38-apiece at the half.
Manama continued to trail 55- 61 heading into the final quarter, where they fell behind by double digits.
They tried to fight back but got no closer than eight points. American professional Lamont Jones scored 22 points to lead Manama but he was their only player in double figures.
Manama will be looking to bounce back in game two of the series, which is scheduled for Monday next week in Kuwait City.
The decisive third game, if needed, will take place back in Bahrain on April 10.
Manama and Kazma were paired off in this knockout stage after Manama finished as runners-up in Group B of the preliminary stage while Kazma were third in Group A.
The other qualification to the semi-finals is between Shabab Al Ahli of Dubai and Al Nassr Riyadh of Saudi Arabia, which begins tonight with their first game.
Game two will be on Tuesday next week, and then game three, if needed, on April 11.
A Manama victory against Kazma will put them through to the final four, where they will face Al Hilal of Saudi Arabia, also over three games.
Those will take place on April 17, April 24 and May 1.
The WASL is a new basketball competition sanctioned by FIBA, the sport's global governing body.
Manama are one of 16 teams in this inaugural edition. Along with the Gulf sub-zone, there is a West Asia sub-zone.
The top three teams from the WASL Gulf and WASL West Asia sub-zones qualify for the WASL Final 8, where they will be joined by Champions of South Asia and Central Asia.
The WASL Final 8 will qualify for FIBA Asia Champions Cup 2023, on the road to FIBA Intercontinental Cup 2023, FIBA's highest club competition.