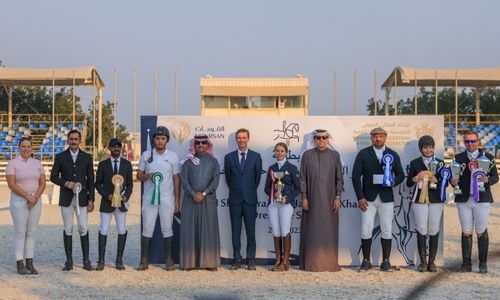 Winners crowned in Noora bint Hamad dressage championship
TDT | Manama
The Daily Tribune – www.newsofbahrain.com
Oliver Walter, riding Alfi Moon, won the preliminary senior section of the HH Shaikha Noora bint Hamad Al Khalifa Dressage Championship, organised by the Bahrain Royal Equestrian and Endurance Federation (BREEF) at the Military Federation arena in Riffa.
The event was held under the patronage of HH Shaikha Noora bint Hamad Al Khalifa, Captain of Al Fursan team.
BREEF secretary Ghaleb Al Alawi and Tawfiq Al Salehi, Director of the HH Shaikh Nasser bin Hamad Al Khalifa Media Office and Information Centre, crowned the winners of the meeting.
The championship featured strong competition across all categories as the participants showcased great displays and exhibited their high abilities to reign their horses.
Seventy-five competitors contested in the championship in order to book a spot in the finals, which will be organised in March this year.
Walter claimed his win with a total result of 72.86%, while Martine Smith (69.29%) was second on Judio and Keshia Graham (68.57%) third on Jairo.
Camilia Lecat won the preliminary junior section after scoring 66.96% on Solo. Marine Roger (66.43%) came second on Fly and Titouan Roger (66.07%) finished third, also on Fly.
In the intro senior category, Abdullah Al Sakran triumphed on Happy Cool after posting 70.71%. Lidia Romanova (68.57%) finished second on Gauhar-Sha, while Carlijn Leeflang (67.86%) was third on Jairo.
Furthermore, Muneera Alabbasi hit 65.24% on As D'or Del Sol to finish first in the juniors' class, followed by Albane Lecat (63.81%) on Solo and Can Topbas (63.57%) on Oreo, respectively.
In the amateur section, Walter earned 67.07% to win first place while riding PS Piran, and he also came second on horse Alfie Moon after scoring 66.72%.
Third place went to Yelda Topbass who received 66.55% on her horse Maestro.
Finally, Megan Black was the winner of the elementary section after getting (75.76%) on Jaranero.
The second and third places went to Reza Al Afoo (73.48%) on Mano Kinsky and Mohammed Alamiri (69.55%) on Puma, respectively.