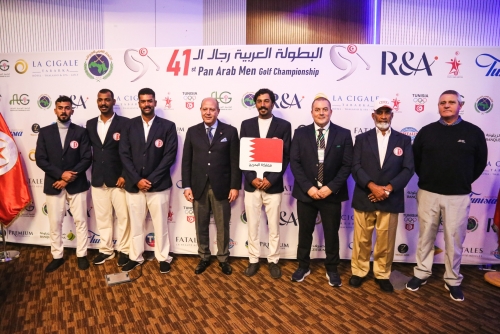 Al Hakam makes strong start in Arab golf
TDT | Manama
The Daily Tribune – www.newsofbahrain.com
Bahrain's Fahad Al Hakam was the senior national team's top-ranked golfer yesterday after the first round of play in the 41st Pan Arab Men Golf Championship, which got underway at La Cigale Tabarka Golf course in Tunisia.
Al Hakam ranked fifth amongst 48 golfers after carding a five-over-par 77 over the first 18 holes of play in the 72-hole tournament. Al Hakam had two birdies but also registered five bogeys yesterday. He was 10 shots behind leader Saaoud Abdallah Al Sheriif from Saudi Arabia, who played a five-under 67 over the first day.
Ranked second was Elyas Barhoumi from Tunisia with a one-under-par 71, while third and fourth, marginally ahead of Al Hakam, were the Egyptian pair of Abd El Moneim Shafei and Dean Naeem. Shafei posted a three-over-par 75 score while Naeem finished the first day with a same total as Al Hakam of 77.
Bahrain's next best yesterday was Ahmed Al Zayed in 13th overall. He finished with a nine-over-par 81 score. Khalifa Al Merisi followed for the nationals in 19th place with a 12-over-par 84, while Khalifa Duaij Al Kaabi rounded out the Bahraini competitors in 26th place with a 13-over 85 score.
The tournament is taking place under the umbrella of the Arab Golf Federation, and is sanctioned by The R&A. The Kingdom's delegation in Tunisia is headed by Captain Adel Ali Al Fayyad, and includes Spanish head coach Gabriel Sota.
The Arab championship is to be played over four rounds at the individual and team levels. The final day is scheduled for Sunday. In the teams' competition, only each nation's three lowest scores count on each day.
The Bahrainis are one of the top teams in the competition, having already clinched the title 12 times in past editions. The other participating nations include the UAE, Saudi Arabia, Oman, Kuwait, Lebanon, Iraq, Qatar, Egypt, Palestine, Libya, Somalia and hosts Tunisia.