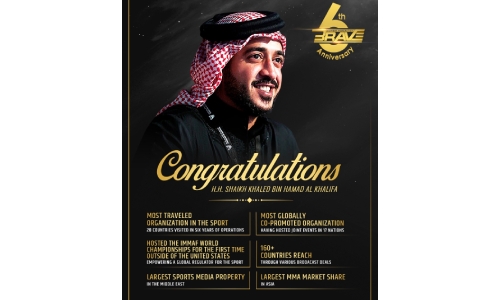 BRAVE CF Celebrates Sixth Anniversary with Record-Breaking Achievements
TDT | Manama
The Daily Tribune – www.newsofbahrain.com
On September 23rd, 2016, a new age for mixed martial arts started with the first-ever BRAVE Combat Federation event in the Kingdom of Bahrain with 13 nations represented. Since then, BRAVE CF has transformed itself into the fastest-growing MMA organization in the world and has taken the name of Bahrain to all corners of the globe.
As it turns six this Friday, BRAVE CF has many reasons to celebrate a very special 2022. On August 6th, the promotion surpassed all its peers. It became the most global organization in the history of the sport, having officially hosted shows in 28 countries in less than six years of operations, an absolute record.
Becoming the most global organization in the sport is a milestone befitting of a true visionary. Under the guidance of His Highness Shaikh Khaled bin Hamad Al Khalifa, the promotion has also become the largest sports media property in the Middle East, earning the largest MMA market share in Asia.
Millions see BRAVE CF of people in 160+ countries through its broadcast deals around the globe - all the while establishing its own OTT platform, BRAVE CF TV, the first of its kind for sports in the Kingdom - and set to have the largest reach in the entire Middle East.
BRAVE CF president Mohammed Shahid has commented on the anniversary of the organization and praised the vision of His Highness Shaikh Khaled bin Hamad Al Khalifa in changing the sport of MMA in the Kingdom of Bahrain and beyond.
''As we reach six years of operations with BRAVE CF, I would like to congratulate and thank His Highness Shaikh Khaled bin Hamad Al Khalifa on this momentous occasion. His vision has led us into a new age for mixed martial arts and we are proud to continue to take the sport forward under his guidance''. said, Mr Shahid.
While BRAVE CF celebrates its sixth anniversary, the organization continues to build up its worldwide reach with a new event in Kazakhstan taking place next week. But the real birthday gift to Middle Eastern fans will be unwrapped in October when the promotion returns to Bahrain for three Kombat Kingdom events.
Between October 19th and October 28th, three legendary fight nights will rock the Khalifa Sports City Arena with dozens of fighters from around the world descending upon the Kingdom of Bahrain for world-class action.