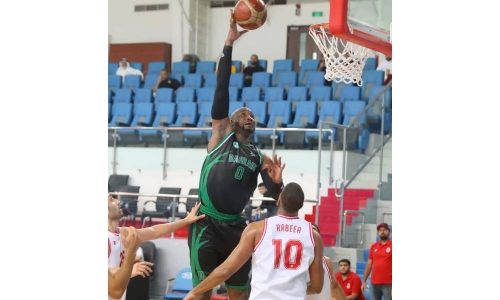 Bahrain Club power past Muharraq in basketball league
TDT | Manama
The Daily Tribune – www.newsofbahrain.com
Bahrain Club powered past fellow-title hopefuls Muharraq 76-67 last night to wrap up the third week of action in the 2022/2023 Zain Bahrain Basketball League.
Behind the strong play of national team big man Wayne Chism, Bahrain Club made the most of their size advantage to overcome their overmatched rivals, who were playing without an import.
Bahrain Club thus continued their impressive start to the season by posting their second successive win, while Muharraq suffered their first defeat in two outings. League action continues on Tuesday next week with the third week of play.
In last night's lone fixture, Bahrain Club were dominant in the paint and it showed in their massive rebounding advantage of 51-33 for the contest. Chism had his way against fellow-Bahrain international Ali Shukrallah and his frontcourt mate Ali Rabeea.
Chism finished with a game-high 34 points on an efficient 14-for-25 shooting clip and took down a monster 23 rebounds in the process. Bahrain Club held a narrow 24-20 lead at the end of the first quarter and they managed to extend that advantage in the second, where they outscored Muharraq 20-13 to head into the locker rooms with a 44-33 cushion.
The victors continued to pile on the pressure and a pair of Chism free-throws gave them a commanding 20-point lead— their biggest of the game—late in the third. In the fourth, Muharraq tried to make a brave comeback and got to within nine points on a Bader Abdulla Malabes three-pointer with the final basket of the contest, but they came no closer.
Bahrain Club had all the answers and they did well to stave off any surge from their rivals. Aside from Chism, Ali Asghar was the winners' only other player in double figures. With 13 markers.
Ali Abbas chipped in with nine points and Hasan Gerashi had six. For Muharraq, Ali Jaffar scored 23 and Malabes added 12, while Younes Kowayed and Shukrallah contributed eight points apiece in the losing effort.