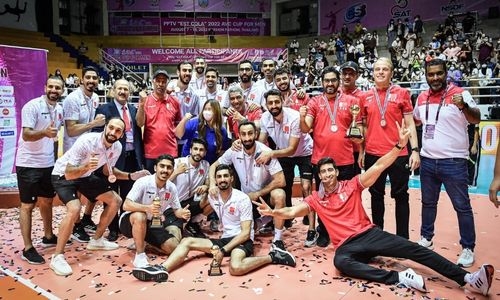 Bahrain win historic Asian volleyball bronze
TDT | Manama
The Daily Tribune – www.newsofbahrain.com
Bahrain captured an historic bronze medal yesterday in the 2022 AVC Cup for Men, which came to a close in Nakhon Pathom, Thailand. The Bahrainis secured their place on the tournament podium after defeating South Korea 3-0 (25-23, 27-25, 32-30) in a hotly contested clash for third place. The result sealed their spectacular debut in the prestigious Asian Volleyball Confederation (AVC) event, which featured 11 of the top senior men's national volleyball teams from across the continent.
Aside from the team's achievement, two of their top players were also awarded yesterday for their individual performances. Mohamed Abdulla came away with the award for Best Outside Hitter, while Husain Sultan was named the competition's Best Libero. Both talents were presented their respective trophies in the awards ceremony, which followed the final. China were crowned the champions after defeating Japan 3-0 (25-20, 25-23, 25-22) in the gold medal game.
The Chinese wrapped up their campaign with an undefeated record. Following Bahrain's historic bronze medal victory, head coach Issanaye Ramires from Brazil commented: "We worked hard day by day to grow up in the tournament. "We got it, and I'd like to thank my players.
I'd like to dedicate that victory, that medal, to my teammates, staff and especially for my family. "Thank you, Bahrain, for everything. See you next time." Aside from Abdulla and Sultan, Bahrain's 14-player roster in the AVC Cup for Men included setters Mahmood Hasan and Mahmood Alafyah; wing spikers Naser Anan, Mahmood Ahmed and Yusuf Ali; opposites Mohamed Anan and Ali Khamis; middle blockers Abbas Al Khabbaz, Husain Aljeshi and Mohamed Aldawiri; and libero Ayman Haroona.
The Bahrainis began the tournament with a win over Chinese-Taipei in their opening Pool D game, but then followed that up with a four-set loss to China. Their sole victory was enough to earn them their place in the main round, where they were in Pool E along with the Chinese, Iran and Pakistan.
Their earlier result against China was carried over, and they then won by four sets over the Iranians and by three sets against the Pakistanis. That set the stage for their clash in the semi-finals against Japan, which they lost in three sets, before winning their bronze medal game against South Korea.