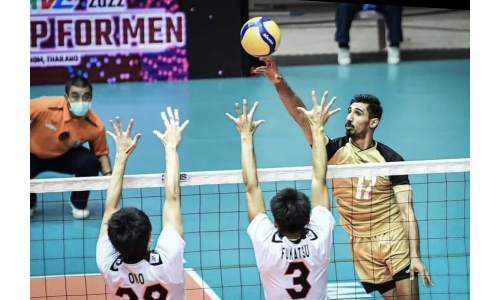 Bahrain bow to Japan in Asian volleyball
TDT | Manama
The Daily Tribune – www.newsofbahrain.com
Bahrain suffered a straight sets loss to Japan yesterday to bow out of title contention in the 2022 Asian Volleyball Confederation (AVC) Cup for Men, being held in Nakhon Pathom, Thailand. The nationals should have taken the first set but allowed the Japanese to crawl back for the early match advantage. They never recovered from there, going down to their opponents 0-3 (25-27, 15-25, 20-25).
The Bahrainis must now settle for playing for the tournament's bronze medals. They will take on the other losing semi-finalists, South Korea, in the game for third place. That is scheduled for today at 11 am Bahrain time. The Japanese move on to face China in the gold medal contest.
The Chinese advanced after beating the South Koreans 3-2 (20-25, 25-17, 32-34, 29-27, 17-15) in a hotly contested affair. In yesterday's match, the Bahrainis were ahead midway through the first set. They took a 15-12 lead on a Mohamed Anan spike, which they maintained at 22-19 on more fine play from Anan.
The Bahrainis, who donned their alternate gold uniforms, were then on the brink of clinching the first set with a 24-20 lead, but that is when it went downhill for the nationals as they lost four set points with Japan going on a game-changing 5-0 rally.
The nationals were able to level the proceedings at 25-apiece with a double block, but the Japanese scored the next two points as Bahrain missed a golden opportunity. Japan stepped up their play in the next two sets, not allowing Bahrain to get back into the match.
Outside hitter Mohamed Abdulla was once again Bahrain's top scorer with 12 points, including 11 attacks. Tomita Shoma paced the Japanese with 13 points, while Higuchi Yuki and Ono Haruki added 11 and 10 points, respectively.
Bahrain is playing for the first time in the AVC Cup for Men, which is in its seventh edition. Along with Abdulla, who has been one of their best players in the tournament, and Mohamed Anan, the rest of the team competing in Nakhon Pathom includes setters Mahmood Hasan and Mahmood Alafyah; wing spikers Naser Anan, Mahmood Ahmed and Yusuf Ali; opposite Ali Khamis; middle blockers Abbas Al Khabbaz, Husain Aljeshi, Mohamed Aldawiri and Mohamed Abdulla; and liberos Ayman Haroona and Husain Sultan.