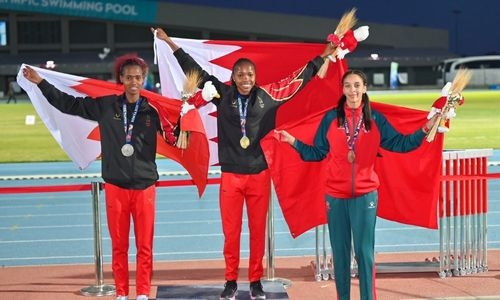 Gold rush continues for Bahrain in Konya
TDT | Manama
The Daily Tribune – www.newsofbahrain.com
Bahrain enjoyed a superb four-medal haul that included three gold medals yesterday on the third day of the athletics competition at the fifth Islamic Solidarity Games, being held in Konya, Turkey. Winfred Yavi, Dawit Fikadu and Muna Mubarak were all crowned champions in their respective track events. Winfred claimed the gold medal in the women's 3,000m steeplechase, Fikadu won gold in the men's 10,000m, and Muna captured her gold in the women's 400m.
Bahrain's other medal yesterday was a silver taken by Tigest Mekonin in the same race as Winfred. Their victories brought Bahrain's overall medal tally so far to 10 medals at the Games, including five gold, three silver and two bronze medals—all won in athletics.
The two other gold-medallists were Edidiong Odiong in the women's 100m and Birhanu Balew in the men's 5,000m. The other silver-medallists were Aminat Jamal in the women's 400m hurdles and Bontu Rebitu in the women's 10,000m; while the bronze medallists were Ruth Jebet in the same race as Bontu and Abdelrahman Mahmoud in the men's shot put.
Bahrain will be looking to add more medals today with several other athletes set to compete. Yesterday, Winfred clinched first place with a dominant showing in the women's steeplechase to finish in nine minutes 34.57 seconds. Tigest followed in second place in 9:50.14, while Ikram Ouaaziz of Morocco won bronze in 9:57.18. Dawit Fikadu won the men's 10,000m gold in 28:31.14 following a tight finish.
Narrow miss
Bahrain's Albert Rop, competing in the same race, narrowly missed out on a medal, placing fifth in 28:45.66. Abel Chebet of Uganda was a close runner-up in 28:31.39, while Bouh Guelleh Moumin of Djibouti came third in 28:33.01.
Muna Mubarak clinched her gold in the women's 400m in 52.97 seconds. Elsewhere yesterday in athletics, Yaqoob Salem qualified for the men's 200m semi-finals after clocking a time of 20.92s in his heat. Edidiong, fresh from taking the women's 100m gold the previous day, stayed in contention for a fantastic double after advancing to the women's 200m semi-finals, as did fellow-Bahraini Zenab Moussa Ali Mahamat. Edidiong clocked a mark of 23.23s in her heat, while Zenab had a time of 23.33s.
Bahrain's John Koech came close to a podium place in the men's 3,000m steeplechase final but came one position shy. He finished fourth in 9:19.64. Musa Isah also came close to medalling, taking fourth place in the men's 400m final in 46.08s.
Countryman Abbas Ali came seventh in the same race with a time of 46.60s. Bahrain's top sportsmen and women are competing in six sports at this year's Games, including athletics, shooting, judo, cycling, wrestling and weightlifting.
The Bahrainis are looking to add to their impressive medal haul from past editions of the Games, when they had won 28 medals in the multi-sport event. Those included 14 gold medals, six silver and eight bronze medals in all.