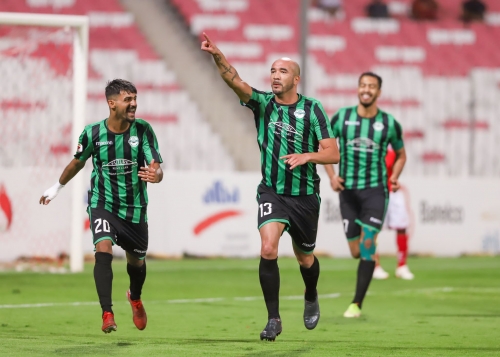 Hidd, Budaiya keep premier league places
TDT | Manama
The Daily Tribune – www.newsofbahrain.com
Hidd and Budaiya ensured last night that they will be staying in the Nasser bin Hamad Bahrain Premier Football League next season.
Hidd came from a goal down to defeat Malkiya 3-1 in their match at Khalifa Sports City Stadium in Isa Town, while Budaiya held on for a 1-1 draw with Sitra at the National Stadium in Riffa.
The results earned them enough points to secure their return tickets to Bahrain's top flight for the 2022/2023 national football campaign.
All four teams have one match remaining, but Hidd and Budaiya are already through regardless of the result of their head-to-head this coming Saturday.
Sitra and Malkiya, on the other hand, will face off for the final berth in next season's Nasser bin Hamad Bahrain Premier Football League. They will lock horns that same evening, with Sitra needing only a draw to book their place.
Malkiya can only secure their berth with a victory. The four teams have been competing in a first-of-its-kind mini-tournament organised by the Bahrain Football Association. The top three teams from the quartet will complete the line-up of 12 clubs for next season's first division.
In Hidd's victory last night, Malkiya were the first to score as Nigerian Dominic Sunday Abah gave them a dream start with a beautiful curling kick from the outer edge of the box in just the fourth minute of the first half. But their celebrations were short lived, as Hidd equalised in the 16th minute which would be the first of three straight goals.
Tariq Kada supplied the leveller with a header in in face of goal following some poor defending from their rivals. Saad Salah Al Amer supplied the assist with a precision cross. Hidd then took the lead in 33rd minute with goal from Talal Juma following a brilliant one-two with Kada.
Saad was able to find the target from close range. Hidd then made it 3-1 on the stroke of half-time with Juma's second goal on a header off a right corner-kick. That eventually was enough to secure the win, as Hidd earned the full three-points to improve to four markers at the top of the four-team table.
Malkiya suffered their second successive loss and are still on zero points. Meanwhile, Budaiya took the lead their game with a 10th minute header by Brazilian Ailton Junior off a corner kick. Sitra then equlised in 33rd minute from the penalty spot after Ahmed Abdulaziz Yaqoot was brought down by the goalkeeper.
Senegalese Seydina Laye Dabo stepped up to take the spot kick, and he made no mistake with his effort, which he sent into the bottom-left corner of goal. Budaiya improved to four points with the draw while Sitra went to two.