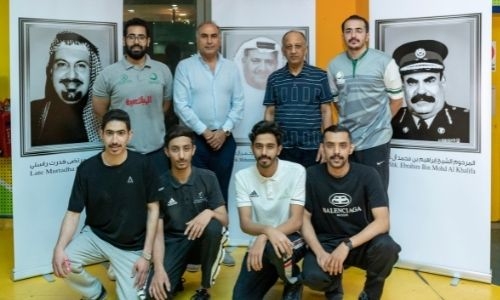 Al Kheliwi leads Saudi bid in Funland Ramadan bowling
TDT | Manama
The Daily Tribune – www.newsofbahrain.com
Abdulrahman Al Kheliwi continued the strong showing of bowlers from Saudi Arabia in the Funland Ramadan Bowling Tournament 2022 after scoring the Group A high series on the 17th day of qualifying at Funland Centre's lanes.
Al Kheliwi took home the daily prize with his impressive score of 747 pins. Euly Salcedo from the Philippines followed suit with the day's high in Group B of 658 pinfalls. Bowlers in the tournament are being divided into two groups, with Group A for advanced competitors and Group B for beginners and ladies.
Contestants from both groups in this first phase attempt trials as much as they need, with the total pinfalls including handicap for their best three trials being considered. Each trial is composed of three games. Qualifying action continues today and goes on until April 21.
It is the first of the championship's five stages. Al Kheliwi is the leading bowler so far from Saudi and his 747 trial was his best of the competition to date. It added to his other two top series of 740 and 720, making for an impressive total of 2,207 pins from his three best series for a 245.2 average.
Al Kheliwi narrowed the gap to the top two in Group A, namely Emerson Gotencio from the Philippines and local star Abdulla Abdulkarim, who have just 18 pins between them. Gotencio continues to occupy the top of the table with his 2,283 total and 253.7 average, while Abdulkarim followed with a 2,265 total and 251.7 average.
Some of Bahrain's best followed Al Kheliwi on the standings ranked fourth through eighth—they included Ahmed Al Khaja (2,132, 236.9), Ahmed Al Goud (2,129, 236.6), Ali Al Mass (2,118, 235.3), Ahmed Fareed (2,109, 234.3) and Essa Taqi (2,099, 233.2). In Group B, Salcedo's 658 score was his third-best of the tournament, and it added to his other leading trials of 675 and 659.
He was able to raise his total to 1,992 for a 221.3 average, which further cemented his standings in first place. Ahmed Al Ansari followed with a 1,964 total and 218.2 average, whereas Ronald Seralvo from the Philippines was third on marks of 1,893 and 210.3.
In the rest of the division's top eight, Filipino bowler Dexter De Asis climbed to sixth after raising his total to 1,846 for a 205.1 average. Just ahead of him were Isa Akbari (1,871, 207.9) in fourth and Khalid Al Goud (1,863, 207.0) in fifth. Behind him were Sami Saloom (1,824, 202.7) in seventh and Khalid Sameer (1,821, 202.3) in eighth.
At the end of the qualifying round, bowlers ranked first and second from Groups A and B will advance directly to round three, while bowlers ranked third to 16th from each group will play in round two. The Funland Ramadan Bowling Tournament is being held in memory of the Late Murtadha Qudrat Rasti, the Late Shaikh Ebrahim bin Mohammed Al Khalifa, and the Late Shaikh Mohammed bin Abdul Rahman Al Khalifa. Nearly BD4,000 in prize money will be on offer to the top 16 finishers.