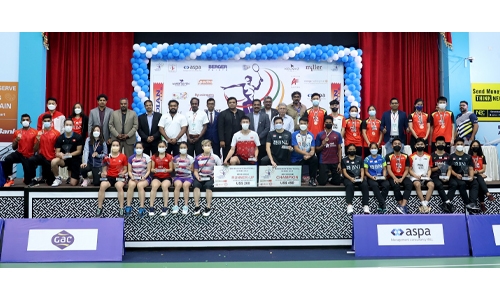 Fatetani, Setiabudi clinch singles titles in BIS 2021 at Indian Club Bahrain
TDT | Manama
The Daily Tribune – www.newsofbahrain.com
The Indonesian pair of Aisya Fatetani and Bobby Setiabudi clinched their respective singles titles in the Bahrain International Series (BIS) Badminton Tournament 2021, which came to a close at the Indian Club.
There might have been 25 countries represented at the start of BIS2021, but come to the finals, there were only two countries still standing – Indonesia and Hong Kong.
The two countries split the titles between them, with three going to Indonesia and two to Hong Kong. There was a lively crowd at the venue to watch the competition's finals day, which rounded off a great week of international badminton. The two Singles' finals were highly competitive, both going down to the wire in thrilling three-set matches.
Fatetani took the Women's Singles title, beating her compatriot Komang Dewi 21/19 in the final set. The Men's title went to Setiabudi, who beat Hong Kong's Chan Yin Chak. This match really brought the crowd alive.
The first trophy of the day, the Mixed Doubles, was always going to be a Hong Kong win as the final was played out by two Hong Kong pairings. Lee Chun Hei Reginald and Ng Tsz Yau took the honours in straight sets – losing a very tight first set seemed to break the spirit of opponents Law Cheuk Him and Yeung Nga Ting, who couldn't really get a challenge going in the second set. The other doubles titles were split.
The Women's crown went to the Hong Kong pairing of Yeung Nga Ting and Yeung Pui Lam, while the Men's to Indonesia's Amri Syahnawi and Christopher David Widjaya.
The BIS 2021 prize presentation ceremony followed the completion of the Men's Doubles final with prize money and attractive trophies being distributed to the various winners and runners-up. Medals were also handed out to the losing semi-finalists and mementos presented to the event's sponsors and various tournament officials and organisers.
The BIS Badminton Tournament 2021 was organised by the Indian Club in association with the Bahrain Badminton and Squash Federation. The main sponsors for the event were The Benefit Company, The Orange Media Group, Kolmaz Perfumes, African Eastern, Berger Paints Bahrain, Eram Floors, Gulf Agencies, ASPA Management Consultancy, Spectra Information Technology, Mark Seven Branding & Advertising, Miller International Loss Adjusters and Surveyors, Value Line, Aqua Clear and Orange Bakery.
Finals Day Results
Mixed Doubles: Lee Chun Hei Reginald / Ng Tsz Yau (Hong Kong) bt Law Cheuk Him / Yeung Nga Ting (Hong Kong) – 23/21, 21/12
Women's Singles: Aisya Sativa Fatetani (Indonesia) bt Komang Ayu Cahya Dewi (Indonesia) – 14/21, 21/14, 21/19
Men's Singles: Bobby Setiabudi (Indonesia) bt Chan Yin Chak (Hong Kong) – 21/18, 11/21, 21/16
Women's Doubles: Yeung Nga Ting / Yeung Pui Lam (Hong Kong) bt Ng Tsz Yau / Tsang Hiu Yan (Hong Kong) – 21/13, 21/18
Men's Doubles: Amri Syahnawi / Christopher David Widjaya (Indonesia) bt Muh Putra Erwansiyah / Patra Harapan Rindorindo (Indonesia) (3) – 21/13, 21/13