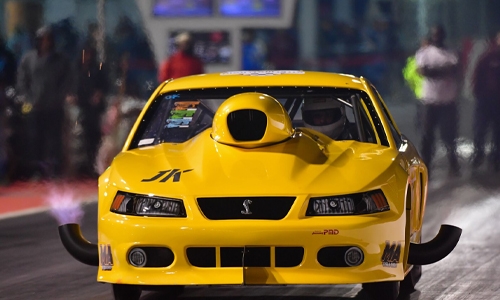 World-class drag racing returns to BIC this week for first round of Bahrain Drag Racing Championship
TDT | Manama
The Daily Tribune – www.newsofbahrain.com
Bahrain International Circuit (BIC), "The Home of Motorsport in the Middle East", has its NHRA quarter-mile drag strip all set up for the much-anticipated start this week of the 2021/2022 Bahrain Drag Racing Championship.
The first of five rounds in the region's premier drag racing series will take place from Tuesday to Friday in Sakhir. The action kicks off with two days of Test and Tune on Tuesday and Wednesday, scheduled for 7 pm to midnight.
Qualifying will then be held on Thursday, setting up the elimination pairings for Race Day on Friday. Racing will be held from 4 pm onwards on both nights. All the racing will be held along BIC's world-famous drag strip, which is a part of the USbased National Hot Rod Association (NHRA) Worldwide Network.
A massive field of well over 200 participants, including 175 cars and 40 motorbikes, from Bahrain, Saudi Arabia, Kuwait and the UAE are set to feature in the season-opener.
Throughout this campaign, they will be vying not only for the championship titles but also for prestigious Wally trophies— the highest honour in the sport awarded only to champions in NHRA-sanctioned events.
Among the leading teams taking part are Bahrain1 Racing, who are back-to-back NHRA champions, owned by His Majesty the King's Personal Representative His Highness Shaikh Abdulla bin Hamad bin Isa Al Khalifa.
This year, there are 13 competition categories, including the Pro Mod, Competition 4.5, Pro 29.5, Outlaw 6-Cylinder, Outlaw 4-Cylinder, Index 7.5, Index 8.5, Index 9.0 and Index 10.0 for cars; and the Street Fight 9.5, Index 8.5, Pro Street and Outlaw for bikes.
This 2021/2022 Bahrain Drag Racing Championship is set to feature five rounds in all. Round two will be held from December 13 to 16, while round three will take place January 4 to 7 in the new calendar year.
The final two rounds will then be staged on back-to-back weekends at BIC, beginning with round four from February 8 to 11 and then the fifth and final meeting from February 15 to 18.
The series is organised and run by BIC in cooperation with the Bahrain Motor Federation, Bahrain Drag Racing Club and Bahrain Motorcycle Club.