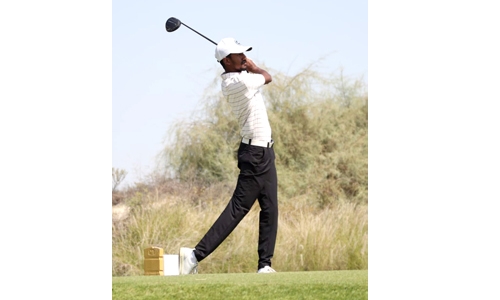 Al Merisi extends Amateur Open lead
TDT | Manama
The Daily Tribune – www.newsofbahrain.com
Bahrain national team golfer Khalifa Al Merisi put himself in prime position to win the title in the third Bahrain Amateur Open golf championship after extending his lead following the second day of play yesterday and with the final 18 holes to go at The Royal Golf Club.
Al Merisi turned his three-shot advantage after day one to a five-shot gap after day two. He played an even-par 72 over the to bring his 36-hole total to 141. Al Merisi could have had an even bigger lead had he not bogeyed the fifth, 14th and 15th holes yesterday.
He also had a double bogey on hole two, but was then able to card five birdies on holes four, eight, nine, 10 and 18. Rising to second place yesterday with the best score of two-under 70 on day two was Khalifa Duaij, who brought his total to two-over-par 146.
Duaij sank five birdies in his round of play but also had a bogey on the eighth and a double bogey to begin the back nine. Three players were then tied for third place a further four shots behind Duaij on six-over-par 150 scores.
They included Sultan Al Hakam, Nasser Yaqoob and Mohammed Al Noaimi, who had day two totals of 76, 74 and 77, respectively. The next three players on the leaderboard were tied sixth with seven-over-par 151 totals, namely Julian Jacobs, Fahad Al Hakam and Viggo Sorensen, who started the day in second but after a round of 79 dropped behind.
Defending champion Ahmed Al Zayed made a significant jump from the first day with an even-par round to go to an eightover-par 152 total for ninth place, while rounding off the top 10 tied with 10-overpar 154 scores were Abdulla Al Hakam and Abdulla Al Yaqoob.
All those that made it into the top 60 will be competing in today's final round, which will culminate with an awarding ceremony at around 2pm. Those last to qualify had scores of 54-over-par 198.
The rest did not make the cut. This year's Open marks the first time it is being held as a World Amateur Golf Rankings (WAGR) event. Competitors will thus be able to improve their standing or become ranked players in the WAGR.
The tournament is organised by the Bahrain Golf Association, and is being sponsored by Infonas, Kanoo Travel, Banz, Riffa Views and Reza Hygiene.