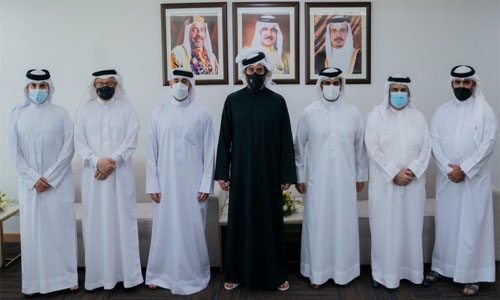 Shaikh Khalid bin Hamad visits Riffa Club, Bahrain Golf Club
TDT | Manama
The Daily Tribune – www.newsofbahrain.com
After visiting the national federations, HH Shaikh Khalid bin Hamad Al Khalifa, First Deputy Chairman of the Supreme Council for Youth and Sports (SCYS), President of the General Sports Authority (GSA) and President of the Bahrain Olympic Committee (BOC) has visited Riffa Club and Bahrain Golf Club.
His Highness met with HE Shaikh Abdullah bin Khalid Al Khalifa, President of Riffa club and Mr Hamad Salim Al Athem, President of Bahrain Golf Club in the presence of HH Shaikh Salman bin Mohammed Al Khalifa, Vice President of the General Sports Authority and Dr Abdulrahman Sadiq Askar, CEO of the General Sports Authority.
The visits came as part of HH Shaikh Khalid's keenness to support local sports associations to implement its programmes and plans to improve the level of sports and sportspersons, in a manner that is consistent with the policies of the General Sports Authority, in order to redouble efforts to accomplish more achievements in the Kingdom's sports sector.
His Highness valued during the visits the efforts of both clubs towards implementing the activities and participating in the competitions as well as embracing the Bahraini youth from various age categories in their sports teams, praising both organisations' accomplishments and urging them, at the same time, to continue their endeavours to improve their sports and sportspeople in a bid to elevate the Kingdom's sports movement.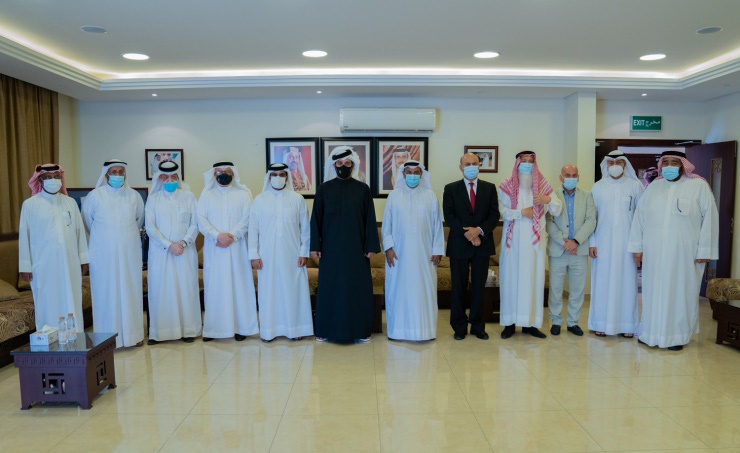 Meanwhile, HH Shaikh Khalid listened to briefings from the representatives of both clubs on their future plans that aim to generate extraordinary results and maintain the efforts towards upgrading the technical and administrative staff to bolster their contributions to building the sports field in Bahrain.
He said: "We appreciate the great and tangible contributions of our national clubs towards serving sports in Bahrain. They are our main partners in our journey to develop this significant area.
We look forward to supporting them in order to sustain their operations at administrative and sports levels,"
From their side, HE the President of Riffa Club and the President of Bahrain Golf Club expressed gratitude and appreciation to HH Shaikh Khalid for the endless support provided and His Highness's distinguished efforts, which has a positive impact on the development of the Bahraini youth and sports movements.
They added that this reflects High Highness' interest and keenness to support all efforts that aim to achieve comprehensive development in the sports field. They pledged to maintain their efforts to accomplish further successes under Bahrain's name.