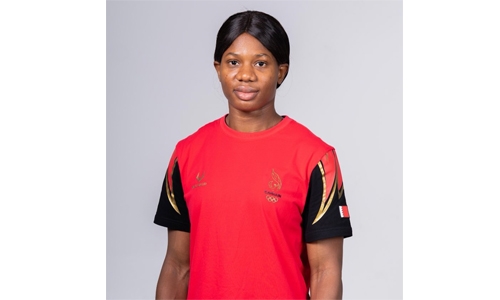 Bahrain's Aminat Jamal clocks season's best
TDT | Manama
The Daily Tribune – www.newsofbahrain.com
Bahrain's Aminat Jamal clocked her season's best time in the Women's 400m Hurdles heats yesterday but could not book her qualification to the next round at the Tokyo Olympic Games.
Aminat finished her race in 55.90 seconds, her best of 2021 so far, but was classified seventh from the eight competitors in her heat, which was the first of five.
Only the first four from each race plus the four fastest losers advanced to the semi-finals. Moving through from her heat was Viktoriya Tkachuk of Ukraine, who finished first in 54.80s, Melissa Gonzalez of Colombia (55.32s), Anna Cockrell of the US (55.37s) and Sage Watson of Canada (55.54s).
American Dalilah Muhammad was the fastest qualifier among the 40 athletes who entered the 400m Hurdles. Competing in the fifth heat, she clocked 53.97s. Jessica Turner of Great Britain had the slowest time from all who advanced of 56.83s, but she finished fourth in heat four.
Aminat has wrapped up her participation in the Tokyo Olympics. Bahrain's elite athletes are back on track today with Winfred Yavi in the Women's 3,000m Steeplechase heats.
She will be running in the first of three races in the round, scheduled for a 3.40 am start, Bahrain time, and must finish among the top three or be one of the six fastest losers to book a place in the final. Winfred is one of the Kingdom's top hopes for a medal at the Games.
She is one of the favourites in her heat, as she has the best time of nine minutes 02.64 seconds amongst the field of 14 athletes. Her mark is also her personal best.
Should Winfred advance, the final is slated for Wednesday. Winfred is part of Bahrain's 13-member athletics team in Tokyo, and she will be the third to race, following Aminat and John Koech who dropped out with an injury in the Men's 3,000m Steeplechase.
The other Bahrainis are are Abdelrahman Mahmoud in the Shot Put, Al Siddique Mikho in the 1,500m, Dawit Fikadu and Birhanu Balew in the 5,000m, and the trio of Elhassan Elabbasi, Alemu Bekele and Shumi Dechasa in the Marathon among the men; while the other women are Kalkidan Gezahegne in the 10,000m, and the pair of Eunice Chebichii Chumba and Tejitu Daba in the Marathon.