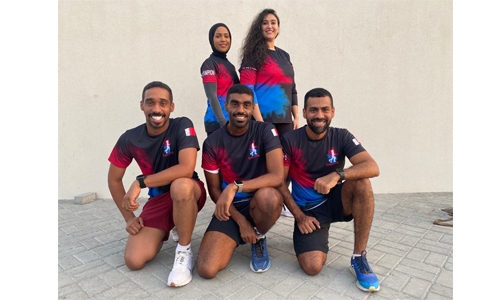 Bahrain team set for Spartan World Championship
TDT | Manama
The Daily Tribune – www.newsofbahrain.com
Bahrain's obstacle course racing team continue their intensive training programme in preparation for the Spartan World Championship 2021, which will be held in Abu Dhabi from December 2 to 5. The event will be held for the first time in the Middle East, confirming the Gulf's position as a host of leading global competitions.
The team has gradually increased the pace of training in order to ensure that they are fully ready for this important international participation and avoid fatigue and injuries.
Bahrain Obstacle Course Racing Club (BOCR) general secretary Seema Al Khraz was present yesterday at the training of the participating team, accompanied by BOCR competition's committee chairman Faisal Al Khalassi and the BOCR delegation head. She met the participants and conveyed to them the greetings of BOCR president Shaikh Khaled bin Ebrahim Al Khalifa.
Al Khraz commented: "Abu Dhabi is hosting the Spartan World Championship for the first time outside the USA, and the first time in the Middle East, in light of the great successes of this new type of sport, which is characterised by a global interaction in these races by all participants in different countries of the world."
Al Khraz noted that the venue features sandy desert nature and sand dunes, which in themselves are obstacles and interesting challenges for participants. Al Khalassi, Sarah John, Mariam Al Khalassi, Abdullah Merheb and Abdulrahman Al Dosari will compete in the 21km and 13km elite competition as well as in the teams' category.
The tournament is expected to see a total field of up to 5,000 participants in all competitions, with more than 2,000 having so far registered and confirmed their presence. Faisal Al Khalassi pointed out the remarkable development in the performance of the team members through their preparations this year under the current circumstances.
It is expected that the organising committee will issue the final schedule of the competitions after approving the participating teams and players and distributing them according to international classifications.