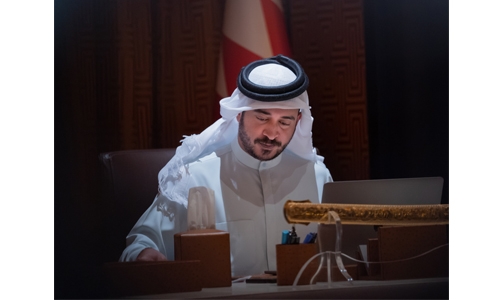 Shaikh Khalid discusses domestic clubs' needs and General Sports Authority's work policy
TDT | Manama
The Daily Tribune – www.newsofbahrain.com
HH Shaikh Khalid bin Hamad Al Khalifa, First Deputy President of the Supreme Council for Youth and Sports, President of the General Sports Authority and President of Bahrain Olympic Committee has held a virtual meeting with the presidents of the national clubs to discuss their needs and the work policy of the Authority. This was HH Shaikh Khalid's first meeting with the clubs' presidents after being appointed as President of the General Sports Authority.
The meeting was attended by HH Shaikh Salman bin Mohammed Al Khalifa, Deputy President of the General Sports Authority President of Bahrain Combat Sports Council, Dr Abdulrahman Sadiq Askar, CEO of the Authority as well as all the presidents of the national clubs. At the beginning of the meeting, HH Shaikh Khalid welcomed all the attendees, conveying to them the greetings of HM King Hamad bin Isa Al Khalifa, King of the Kingdom of Bahrain.
Thereafter, His Highness praised the efforts of the national clubs towards embracing the youth and juniors through the development of various programmes that help in honing their skills and capabilities in order to empower them to reach their full potentials at the sports level, while, at the same time, bolstering their loyalty and sense of national belonging.
His Highness affirmed that the general climate is heading towards recovery from the COVID-19 pandemic and getting back to normal, pointing to the recent positive indicators which came thanks to the efforts of Team Bahrain under the leadership of HRH Prince Salman bin Hamad Al Khalifa, Crown Prince Prime Minister.
Meanwhile, the meeting discussed the needs of the clubs through establishing direct contact with the clubs in order to ensure speedy delivery and promote the clubs' corporate work as well as the application of quality standards and governance adopted by the General Sports Authority.
Furthermore, HH Shaikh Khalid stressed that the General Sports Authority will adopt the policy of open doors with all sports establishments, stating that extra organisational steps will be taken in the coming period to contribute to the implementation of plans that advance the administrative, financial and sports system in the clubs, according to indicators to measure HH Shaikh Khalid bin Hamad Al Khalifa during the meeting performance and results.