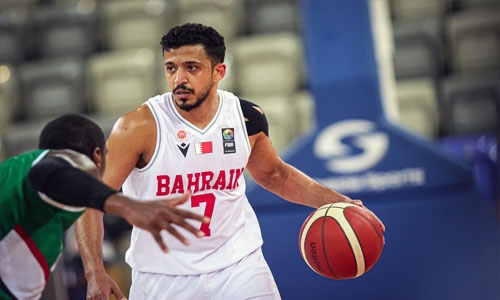 Bahrain sign off from qualifiers with victory
TDT | Manama
The Daily Tribune – www.newsofbahrain.com
Ahmed Salman scored 10 points in the last two minutes to help lift Bahrain to a thrilling 80-77 victory over Iraq last night in both teams' final game of the FIBA Asia Cup 2021 qualifiers.
Salman first buried two three-pointers to help give his team some breathing room after Iraq erased a 10-point deficit with an 11-1 run late in the fourth quarter.
The wily Manama Club point guard then made a layup with just over 20 seconds remaining, and on Bahrain's next possession, sank two pressure-packed free-throws to put the hosts up 80-76 with nine seconds to go.
Iraq was able to get to within three points on a Kevin Galloway free-throw, but after a Bahrain turnover, Galloway's potential game-tying triple hit the back of the iron as time expired.
Maitham Jameel top-scored for Bahrain in the win with 21 points but he was ejected from the game after being called for two unsportsmanlike fouls.
Salman added 14 while Mohammed Kuwayed scored 13 points and Mohammed Hussain had 12.
Big man CJ Giles also had a big impact on the result as he finished with six points and 11 rebounds. Galloway paced Iraq with 18.
Mohammed Al Khafaji chipped in with 13 and Ali Hamad had 11.
The contest had no bearing on either side's hopes of making it to the continent's biggest basketball competition, as the Bahrainis had already secured their place while the Iraqis had bowed out from contention.
Bahrain and Iraq were both in Group D of qualifying along with Lebanon and India.
Games in their division took place in the Kingdom along with that of Group F, which featured Kazakhstan, Palestine and Sri Lanka.
Bahrain finished the qualifiers with a 4-2 win-loss record, while Iraq was winless in six games. Facing a 32-36 deficit at the break, Bahrain came out firing in the second half and went on a 9-0 run to take the lead.
They later had a 10-0 rally to put them ahead 57-49 heading into the fourth.
The Bahrainis led 64-54 following a transition three-pointer by Jameel with just over six minutes to go.
But Iraq roared back to tie the proceedings in the closing minutes, which set the stage for Salman's heroics.