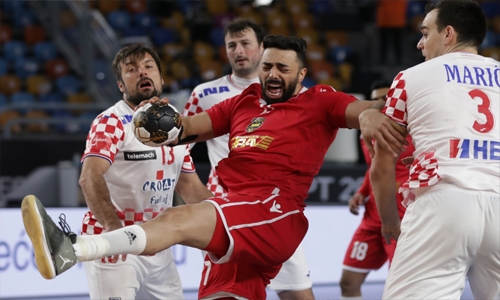 Bahrain go down fighting against Croatia
TDT | Manama
The Daily Tribune – www.newsofbahrain.com
Bahrain put in a spirited fight last night in an 18- 28 loss to European giants Croatia in their opening match of the main round in the 27th IHF World Men's Handball Championship, being held in Egypt.
The Bahrainis had moments of brilliance and made their heavily favoured rivals sweat, but were not efficient enough offensively to secure an upset.
The nationals are out of the running for a place in the quarter-finals but are playing to gain as high a placing as possible on the final classification. This year's edition marks their fourth appearance in the worlds.
Bahrain had a slow start and quickly fell behind 1-7 in the early stages. They were unable to break the formidable Croatian defence and were down 3-9 after 20 minutes.
But they gradually got into their groove and picked up the pace behind the strong play of skipper Hussain Al Sayyad, who fired in four of their first-half goals.
The Bahrainis were able to get good scoring opportunities on the fastbreak through Mahdi Saad and Mohammed Ahmed and were able to get within 6-11.
Goalkeeper Mohammed Abdulhussain was also instrumental in helping the team bridge the gap to 8-13 at the interval.
In the final 30 minutes, Bahrain continued to battle and back-to-back goals from Mohammed Ahmed and Jassim Salatna helped bring them to within 16-21.
But the Croatians were just too good on the night and were able to extend their cushion towards the final buzzer, eventually closing out a double-digit victory. Al Sayyad and Ahmed both finished with six goals to lead Bahrain.
Only four others were able to get onto the scoresheet, with Mahdi Saad scoring thrice, and Ali Mirza, Mohammed Mirza and Salatna contributing a goal apiece. Zlatko Horvat was Croatia's leading man with eight goals.
Ivan Martinovic and Marino Maric chipped in with four each.
The nationals are in Group II of the main round. The other teams are Qatar, Japan, and their Group D rivals from the preliminary stage, defending world champions Denmark and Argentina.
Bahrain is next scheduled to face their Qatari counterparts tomorrow. The match is set for a 5.30 pm throw-off, Bahrain time.
They then play their final main round fixture on Monday against Japan at the same scheduled time.
Bahrain will no longer take on Denmark and Argentina in this stage, as their results from the preliminaries are carried over. They, therefore, head into their clash with Qatar with a 0-3 win-loss record.
Croatia improved to two wins with one draw.