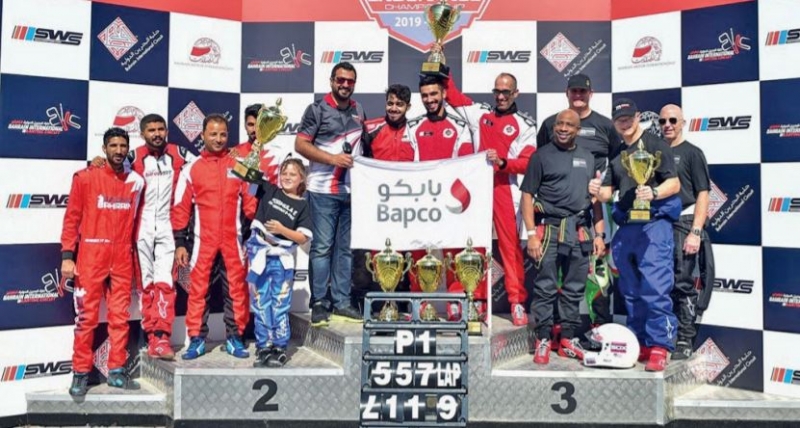 Bapco teams claim fantastic treble
Bapco claimed a fantastic treble over the weekend in the 12-hour third round of the Bahrain Karting Enduro Championship (BKEC) at Bahrain International Karting Circuit (BIKC) in Sakhir.
Bapco Engineering claimed both the overall victory and first place in the Nations category, while Bapco Motorsport triumphed in the Corporate class.
Go Bahrain were the winners in the Pro class, which was the third division in the ultra-competitive race.
All the action took place along BIKC's 1.414-kilometre Commission Internationale de Karting Track. The endurance challenge featured a unique format, starting at 11pm at night under floodlights and then finishing at 11am in the morning in the daylight.
The 12 participating teams were competing in identical 390cc RT8 karts.
Winners Bapco Engineering were composed of Faisal Alshafei, Abdulla Al Thawadi and Yousif Khamiri. They managed to snatch away a fine overall victory despite starting from fifth place on the grid.
They completed the race with a total of 557 laps – a total that was matched by overall runners-up and pole-sitters Racing BH Junior as well as third-placers Go Bahrain. But Bapco Engineering enjoyed a comfortable 8.915-second gap ahead of Racing BH Junior (Khaled Al Wazzan, Khaled Al Zayed and Rashed Almuammari) and were also one minute 07.393 seconds ahead of Go Bahrain (Abdulla Buhindi, Abbas Sarhan and Ali Baslar).
In fourth through sixth place, respectively, were Bapco Sadeem (Osama Albuflasa, Ali Abdulla and Khalifa Al Zayani), Racing BH (Mohammed Mattar, Shaikh Salman bin Rashid Al Khalifa and Khaled Al Rayes) and Bahrain Airport Services (BAS) A (Lewis Smith, Ahmed Abduljalil and Gavin Halls).
Racing BH were the overall winners from the BKEC's first two rounds, consisting of three and six-hour events, but this time had to settle for fifth.
Meanwhile, Bapco Engineering and Racing BH Junior were also the top two teams in the Nations class. They were joined on that podium by Manama Drift (Erich Grawunder, Franlkin Call, Michael Spencer and Colby Narine), who completed 539 laps in third place.
In the Corporate category, Bapco Motorsport (Essa Mahmoud, Aziz Bufalah and Abdulrahman Alawadhi) were the victors, having also finished in eighth overall. They posted 553 laps.
BAS had their B and C teams take second and third place, respectively. The B squad (Mahmood Saati, Yusuf Yaqoob and Ziyad Khalifa) completed 543 laps, while the C team (Saud Alshater, Philip Morais, Don Vinura, Ammar Alghawas, Mohammed Fadhel and Hussain Habib) had 537 laps.
In the Pro class, Go Bahrain were joined on the podium by Bapco Sadeem and Racing BH. Bapco Sadeem were just one lap behind the race's overall top three, while Racing BH were just two laps back.
Meanwhile, a special trophy was awarded to the race's all-ladies team, BAS F. They comprised Maryam Al Qassim, Alanoud Alaiwi, Fatima Mohammed, Sujusha Bakaal, Alya Adel and Christina Anieliesa, and they completed 515 laps in the race.
Following all the action, the winners were presented their respective trophies in a podium ceremony.
The BKEC now heads towards the fourth and final round of its 2019/2020 season, which will be a 24-hour race. This championship-finale and the ultimate challenge of the year is scheduled for February 14 and 15 at BIKC.