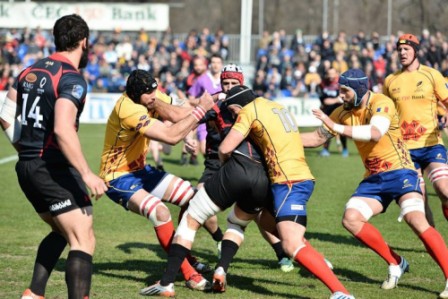 Georgia teen set to break World Cup record
London
Eighteen-year-old scrum-half Vasil Lobzhanidze will become the youngest World Cup player in history if he gets a place in Georgia's team to play Tonga on Saturday.
Lobzhanidze said he barely remembers the last World Cup in 2011 and only took up rugby union seven years ago.
"Just a few years ago, I would not have imagined that I would play for the Georgian national team, let alone at a World Cup," he said at a press conference in Bristol.
"It is a dream come true, it's a fantastic feeling."
Georgia play Tonga in their opening Pool C game in Gloucester.
If Lobzhanidze plays he will break the record held by American Thretton Palamo who was 19 years and eight days when he played South Africa at the 2007 World Cup.
Lobzhanidze was still at school for the last World Cup in New Zealand.
"I was very young, so I almost don't remember the last World Cup! We have 12 grades of school in Georgia and I was in the 10th grade.
"I started playing rugby in Tbilisi when I was 11-years-old in one of the clubs, Armazi Tbilisi which is a club that plays in the top division in Georgia, and that is where I still play today.
"My family will be looking for me and watching on television.
"I come from a big family, with a big extended family, which is very typical for Georgia. I have a twin sister, two older sisters and one brother. And I have six nieces and nephews."
Georgia coach Milton Haig was sure that Lobzhanidze will appear in one of the pool matches.
"He's in the squad because he is one of the top three scrum-halves in Georgia and he's our number one number nine," Haig said.
"Although he is only 18, he plays and makes decisions like a 25 or 26-year-old, and he makes good decisions under pressure.
"He will certainly feature in the pool stages. Whether that's in the first game against Tonga or the last game against Namibia we don't know yet, but he will definitely play," added the New Zealander, who has set a target of two wins for the team which should ensure they qualify for the 2019 edition.