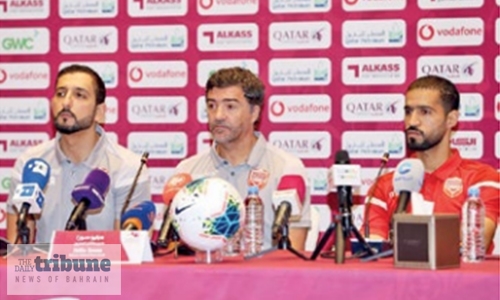 Sousa plays down title talk but vows to fight
National football team head coach Helio Sousa played down suggestions that Bahrain could clinch its first-ever title in the Arabian Gulf Cup this year, but vowed that his team will fight to win every game. Sousa was speaking yesterday in his pre-match Press conference ahead of the Bahrainis' opening Group B clash against defending champions Oman. Bahrain have taken part in all but the 1972 edition of the Gulf Cup but have never won the title.
They finished as runners-up four times, including in the inaugural edition in 1970, in 1982, in 1992, and then again in 2003-2004. In the last tournament held in Kuwait in 2018. Bahrain finished fourth overall after losing in the semi-finals, while Oman defeated the UAE in a tight penalty shootout to claim the crown. Sousa said that he knows of the importance of the Gulf Cup to Bahrain, and while he avoided any title talk, assured that the team would give their maximum effort to win. "We know about the history of this tournament and what this tournament means to Bahrain," said the Portuguese tactician.
"Bahrain was one of the founders of this competition, and we were also runners-up a few times in the past. "We will try as we have been doing since we started five months ago. Most of the teams who are present here have had a more consistent process than ours, but we have already achieved very important things – mainly, a consistent idea of playing and a mentality that we are prepared to be in every game to win it. "We will be best prepared as we can to win. If we are in the semi-finals, then we will fight to win again and to be in the final.
In the final, as ever, it will be for winning too, and we hope to have the conditions to be capable to do it." Sousa said that the team is completely focused on their first match against Oman, whom he described to be a very consistent and quality side. "It will be a difficult game for sure," he said. "They are the title-holders, and in the last two to four years have been very consistent in the Fifa ranking, which means a lot. "All of these things tell us they are a very consistent team with very good players who have a lot of experience. They are players with quality and with a good identity of playing.
They will try to focus on us, but we will try to get something from what they don't do so well. "This first game will be very important as are all the games in these short competitions; we will face each game as it comes." Sousa added that the national team's players are continuing to grow and each time they take to the pitch they are developing as a squad. "For some of our guys, these tournaments are a very new experience," he explained. "It is a learning process. Now, maybe most of them feel some pressure, but as I said to them it is the pressure that we want.
The pressure of winning. To be one of the best and to be the first. This is a new thing, a new feeling that we must learn, but our goal will also be on the next game. "This is a very good tournament for us to keep building what we want and what we propose for Bahrain football. We try to achieve and conquer every game. We will always try to get the three points for us to get into the next stage of a competition."
Bahrain's match with Oman is scheduled for a 5.30pm kickoff and it will be held at Doha's Abdullah bin Khalifa Stadium. Photo cap: Sousa, centre, speak at his Press conference alongside national team official Mohammed Abdulghaffar, left, and player Ali Haram.