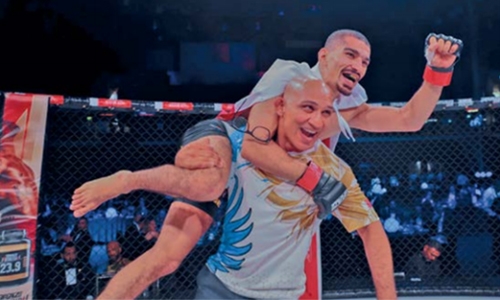 Ayyad hopeful for Team Bahrain success
Flyweight contender Hussain Ayyad will be carrying the flag of Bahrain at BRAVE CF 29 as he takes on Latvia's Matis Zaharovs on November 15th in front of his own crowd. However, during the week he will keep a watchful eye on the progress of Team Bahrain at the IMMAF World Championships, that will take place during BRAVE International Combat Week.
A product of the IMMAF amateur system, Ayyad stressed the importance of having amateur experience before making it to the professional leagues and wished success on all competitors, especially from Team Bahrain. "The rules for amateur MMA are different so they allow you to get experience that's very useful in your professional career.
I was fighting two years ago at the IMMAF World Championships right here in Bahrain and now I am fighting for BRAVE CF in the biggest event yet. So it's a very good platform to showcase your talents and I wish nothing but success to the competitors, and I'll be cheering on Team Bahrain for sure", said "Iron".
Ayyad had a tentative start to his BRAVE CF career but is currently riding a three-fight win streak and hopes another victory net Friday can get him one step closer to a title shot. BRAVE CF 29 takes place on November 15th at the Khalifa Sports City Arena and it will be co-headlined by a Flyweight world title fight between top contenders Jose Torres and Marcel Adur.
The main event will be the final of the KHK World Championships, the onenight, four-men, open weight tournament that will hand the winner a US$100,000 check plus the provisional holding of the KHK belt, the most prestigious prize in all sports, adorned with 6.2 kg of gold.