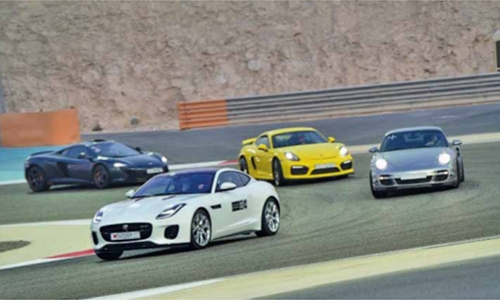 BIC set for open track event
It's going to be a fantastic Friday at Bahrain International Circuit (BIC) with a whole day's worth of thrills and unparalleled experiences. "The Home of Motorsport in the Middle East" will be holding two of its most popular public offerings, starting with the Ultimate Track Experience and following that up with an Open Track Night.
From 8am to 4pm, fans will be able to choose from a series of drives and passenger rides that are all under the umbrella of the Ultimate Track Experience, which will take place along BIC's 2.55-kilometre Inner Circuit. Then, from 4pm to 11pm, speed lovers will have an opportunity to drive their very own cars or ride their motorbikes under the lights along BIC's 5.412-kilometre Grand Prix Circuit in Open Track Night.
The Ultimate Track Experience includes drives in a Clio Cup sports car and in a Radical SR1 prototype, as well as a passenger ride in an ultra-quick Radical SR3. The Clio Cup car is a Renault-manufactured racing machine that features a 1.6-litre Turbocharged engine that can generate up to 220bhp and 6,000rpm. The drive can be purchased for BD115.5.
The Radical SR1 prototype features a 1,340cc engine which can generate 185bhp. It launches from zero to 100kph in 3.6 seconds. This drive costs BD126, and completing the Clio Cup drive is a prerequisite to taking part in the SR1 experience. The Radical SR3 passenger ride will be conducted alongside one of BIC's highly qualified driving instructors. It costs BD37. Meanwhile, Open Track Night is expected to attract some rare sports cars and motorbikes from all over the Gulf.
The cost to take part is BD94.5 for the whole night and BD68.5 for a half of the evening. There is also an option at BD31.5 for each single session. Also available during Open Track Night are the Jaguar Experience and passenger rides in the Clio Cup and SR3. The Jaguar Experience has been designed to ensure that all guests are given a dynamic, hands-on and memorable experience on the track in a Jaguar F-Type.
Powerful, agile, and utterly distinctive, the F-Type is a true sports car and the opportunity to drive it must be fully taken advantage of. The cost for the Jaguar Experience is BD63. The Clio Cup Passenger ride is BD26.5, while the Radical SR3 Passenger is BD37.