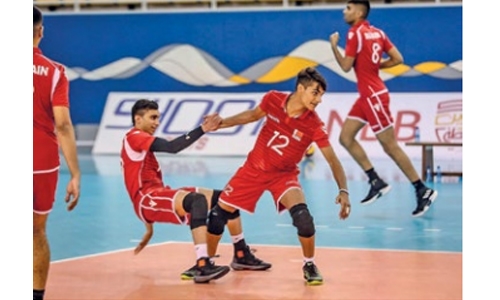 Bahrain in final preparations for Volleyball U21 Championship
Bahrain's junior national volleyball team have begun their final preparations for the upcoming FIVB Volleyball Men's U21 World Championship 2019. The Kingdom of Bahrain is set to host the global competition from July 18 to 27 at Shaikh Isa Sports City in Riffa. Bahrain's national team will be the same as the one that played in the recent Asian Volleyball Confederation Western Zone Qualification Tournament for the Asian Men's U23 Volleyball Championship.
The Bahrainis, who are all 21 years old or younger, were hugely successful in the qualifiers, which were also held in the country. They took first place amongst the six participating nations and secured one of three berths in the continental event, which is scheduled for next month. The juniors now turn their focus to the world championships. The squad is being guided by Bahraini head coach Yousuf Khalifa and his staff.
The players include Mahmood Alhussain Mohammed, Sayed Al Abbar, Jawher Fares, Saif Yusuf Saif, Mohammed Abdulla, Mohammed Haroona, Hassan Haider, Jasim Matrook, Hussain Thamer, Hasan Abdulla, Sayed Jaffer and libero Husain Sultan. Bahrain Volleyball Association (BVA) President Shaikh Ali bin Mohammed Al Khalifa expressed his delight with the ongoing work being done ahead of the competition.
Shaikh Ali especially praised the Bahrain Olympic Committee (BOC), under the presidency of Supreme Council for Youth and Sports First Deputy President HH Shaikh Khalid bin Hamad Al Khalifa, for their unparalleled support of the event. Shaikh Ali also spoke highly of BOC Secretary General Mohammed Al Nusuf, who has given great attention and follow-up to all details regarding Bahrain's organisation of the FIVB Volleyball Men's U21 World Championship 2019. Shaikh Ali said that staging the global tournament cements Bahrain's place as one of the sport's most trusted host nations of international-level volleyball events.
The BVA has arranged only the very best for the competition, and they are now in the final stages of their completion. A total of 16 countries representing five confederations under the Federation Internationale de Volleyball (FIVB) are competing in Bahrain. They have been divided into four groups of four countries each for the tournament's opening stage. Bahrain are in Pool A along with China, Morocco and Puerto Rico.
Pool B is composed of Cuba, Argentina, Egypt and South Korea. Pool C includes Russia, Iran, the Czech Republic and Tunisia. Pool D consists of Italy, Canada, Brazil and Poland, who are the defending champions. Bahrain are playing in the tournament for the fourth time. Aside from the years they hosted, the nationals also competed in 1989 when they event was held in Greece.