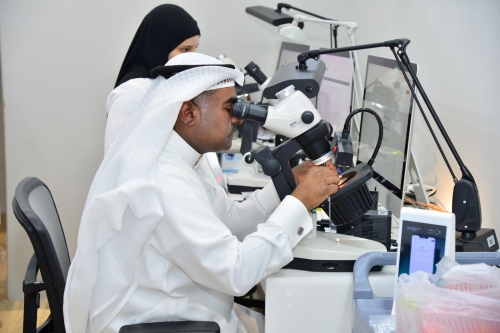 DANAT booths a big hit at Arabian Jewellery Exibition's inaugural day
TDT | Manama
The Daily Tribune – www.newsofbahrain.com
The booths of the Bahrain Institute for Pearls and Gemstones (DANAT) experienced a notable influx of visitors from both within and outside the Kingdom of Bahrain on the inaugural day of the Arabian Jewellery Exhibition.
The exhibition, held under the patronage of His Royal Highness Prince Salman bin Hamad Al Khalifa, the Crown Prince and Prime Minister, is scheduled to run until the upcoming Saturday.
Visitors to the DANAT pavilions at the Jewellery Arabia Exhibition demonstrated an exceptional level of interest in the exclusive collection of precious valuables from the Egyptian royal family. This year, DANAT proudly unveils these treasures to the public for the first time, showcasing highlights such as the 107-year-old gold and diamond necklace worn by Muhammad Ali Pasha.
Notably, the exhibition also features the luxurious toiletry collection that graced Queen Nazli, the mother of King Farouk I, the ultimate sovereign of the Kingdom of Egypt. DANAT conducted thorough examinations of each showcased exhibit, ensuring an immersive and unparalleled experience for all attendees. '
Purchasers of gold, jewellery, pearls, and gemstones from any showroom at the Arabian Jewellery Show can avail themselves of DANAT's prompt certification service, with the certificates conveniently delivered to their mobile phones via the app. Furthermore, the diverse activities orchestrated by DANAT during the exhibition drew the interest of industry experts.