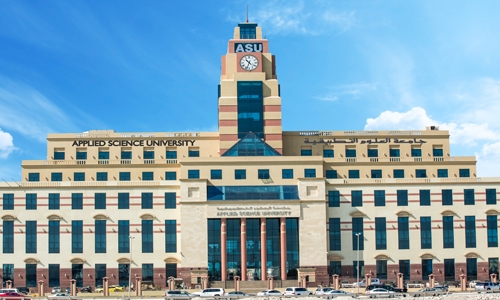 ASU's College of Engineering invests in opportunities to develop innovative techniques
TDT | Manama
The Daily Tribune – www.newsofbahrain.com
The Acting Vice Dean of College of Engineering at Applied University, Dr Marwan Aouad, confirmed that the programmes offered by their department in the field of Architectural Engineering and Civil Engineering, in collaboration with London South Bank University, are the result of in-depth studies of the market needs. The programmes offered fulfil the needs for future technological and scientific advancements related to the built environment which reflects positively on the economy as well as broadening the knowledge of enrolled students and improving their analytical and innovative thinking skills. This enables students to implement the knowledge they have acquired from their programme in scientific research and their future careers as competent engineers.
Dr Marwan added that one of the main objectives behind offering these programmes in collaboration with one of the oldest Universities in the United Kingdom is the willingness of the University to diversify the offered subject areas and create opportunities for the Bahraini youth to enhance their skills to enable them to secure unique employment opportunities after graduation. This has been confirmed by the Industry Advisory Boards for the programmes who were heavily involved in advising on the graduation project topics to ensure they are in line with the market requirements and the latest national and international directions.
The Acting Vice Dean of College of Engineering expressed his pride in the high levels of scientific and practical attainment of the students' in their graduation projects which reflects their innovative thinking in tackling practical requirements. Although the current COVID outbreak posed a serious international challenge in the Higher Education sector, the University saw it as an opportunity and incentive for creativity and innovation in implementing unconventional methods of teaching, learning and assessment which reflects positively on the overall students' experience. This would not have been possible without the endless efforts of the department staff members, especially the graduation project supervisors including Dr Hamdy Al-Sayed, Dr Wael Abdelhameed and Dr Rouya Hdeib.
Dr Marwan mentioned that the College of Engineering implements the latest digital applications to facilitate communication with students and showcase their work. One of the initiatives in this regard is a virtual exhibition which aims to present the students' projects and models as part of the projects designed and executed by the students and supervised by the academic staff members within the College.
The Acting Vice Dean of College of Engineering explained that through this application the students can participate in a virtual tour which resembles being in a real exhibition by enabling them to walk through the exhibition to see the presented projects. The virtual exhibition is in line with the continuous efforts by the University to implement technology in teaching and learning activities in light of the current exceptional circumstances the world is going through due to COVID-19. The virtual exhibition is one of several steps towards the digitization of many academic activities taking place within the University which will also enable better interaction between staff and students.