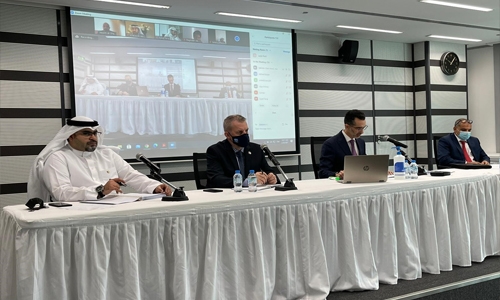 Al-Matahin shareholders okay cash dividend of BD 372,384
TDT | Manama
The Daily Tribune – www.newsofbahrain.com
Bahrain Flour Mills Company's (Al-Matahin) ordinary and extraordinary general meeting yesterday recommended distributing cash dividends of BD 372,384 to the shareholders for the fiscal year ending on 31 December 2020 equivalent to 15% of the share's nominal value, i.e. 15 Bahraini fils per share.
The shareholders also agreed to transfer the remaining amount of BD 693,775 to the retained earnings account.
The company achieved a net profit for the year ended 31 December 2020, amounting to BD 1,086,159 and an operating profit during the year amounting to BD 305,240. Marwan Tabbara, the Chairman of the Board of Directors, assured that the Board of Directors of the Al-Matahin Company would continue to march and implement all plans drawn up to BFM to maintain sustainable food security for Kingdom.
Tabbara thanked His Majesty King Hamad bin Isa Al Khalifa and His Royal Highness Prince Salman bin Hamad Al Khalifa, the Crown Prince and Prime Minister, for their sound guidance and permanent support.