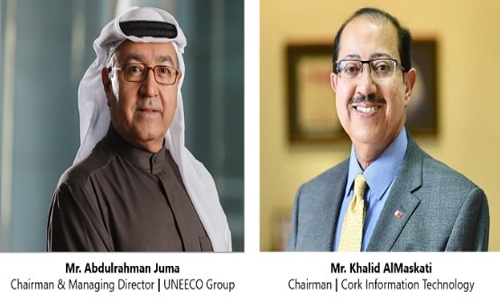 UNEECO Group goes live with Epicor ERP
TDT | Manama
The Daily Tribune – www.newsofbahrain.com
One of Bahrain's largest manufacturing company UNEECO Group goes live with Epicor ERP.
Epicor Software Corporation, a global provider of industry-specific enterprise software to promote business growth, has announced that UNEECO Group, one of Bahrain's most well-respected names in the manufacturing industry, has gone live with Epicor ERP.
In meeting the challenges of a modern business environment, UNEECO Group realized its current technology stack was an obstacle in achieving their business transformation goals.
"We were facing a lot of challenges with our legacy system and issues with reconciliation, meaning there was no clear visibility of the manufacturing operations," UNEECO Group director Jayashankar V said.
"We also did not have real-time access to data which resulted in lots of inaccurate reporting. Our goal was to supply high-quality products provided at the lowest possible costs and with the quickest turnaround times.
"Since implementing Epicor ERP, overall efficiency and effectiveness have increased. Issues with reconciliation are now a thing of the past and progression has significantly improved accuracy, so that balancing accounting each month is always correct. Decisions can now be made quickly and in a more informed manner. The solution has also resulted in greater control across the organization.
Finally, we have seen project turnaround time significantly reduced and strict regulation standards easily met."
UNEECO Group chose Cork Information Technology - Certified Epicor Partner because of its "excellent track record" in "delivering on commitments".
Working with the Epicor partner, UNEECO Group deployed key Epicor modules including—financial, procurement, production management, project management, maintenance management, field service, CRM, and quotes.
"Epicor ERP solution is capable of handling complex manufacturing requirements with absolutely no disruption to core functionality," said UNEECO Group chairman and managing director Abdulrahman Juma. "Epicor ERP fits our industry-specific requirements and needs to be given its flexibility and scalability, prompting us to collaborate with Epicor and Cork Information Technology for a full deployment of the system. With the deployment of the solution, we now have controlled management of our manufacturing units that give us complete visibility across all operations right from procurement to manufacturing, and from quality inspection to distribution."
Epicor ERP is widely recognised as the leading ERP platform in the Manufacturing industry, primarily because of its industry-specific functionality and ease of integration and use.

"What a strong start to the year! It is great to see another example of where Epicor and our Partner, Cork Information Technology, deliver tremendous joint value to our customers' business. We are delighted to welcome UNEECO into the Epicor family," said International Channel Sales vice president Paul Flannery.
"We are extremely proud to win and support such a high-profile, industry-leading customer in Bahrain," said Cork Information Technology chairman Khalid Hussain Al Maskati. "With the system now gone live, I am confident that UNEECO Group will realize the overall business operational improvements and achieve their digital transformation objectives and focus on planning and driving business growth."