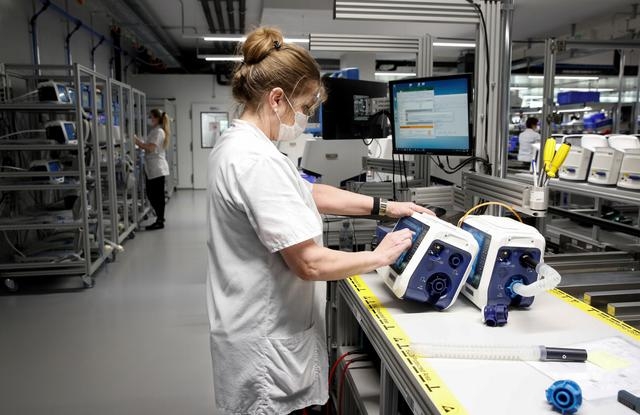 Army joins the production line as ventilator makers scramble to meet demand in Italy
Zurich
On Mar 6, Gianluca Preziosa, the head of an Italian ventilator maker, received an urgent request. The Italian authorities wanted his help for an all-out effort to meet a desperate need for ventilators.
Now, his Bologna-based company, Siare Engineering International Group srl, has 25 army technicians working with its production supervisors to manage the expanded production and help assemble machines. The army also has made personnel available to the company's suppliers, Preziosa said.
"Usually we produce 160 machines a month. The goal is to produce 2,000 in four months, so more than triple our monthly production," Preziosa told Reuters in an interview. The executive added that companies involved in the supply chain of producing ventilators "cannot respond to the enormous demand because this is a niche industry".
Siare belongs to a normally quiet corner of the medical equipment market that has found itself on the front line of the century's biggest health crisis caused by the rapid spread of the new flu-like virus, which can lead to breathing difficulties and pneumonia in severe cases.
Ventilator makers are under pressure to sharply increase production even as the pandemic has disrupted the transport and supply of crucial parts, such as hoses, valves, motors and electronics – some of which come from China, the original epicentre of the outbreak that has killed more than 10,000 people across the globe.
Amid shortages, governments are turning to help from the military, enlisting other manufacturers and even looking to 3D printing in the hopes of ramping up production of the potentially life-saving breathing machines.
In Italy, a team of doctors has developed a way to provide oxygen to two people from one ventilator, therefore doubling capacity, according to the Italian region of Emilia Romagna's commissioner for coronavirus.