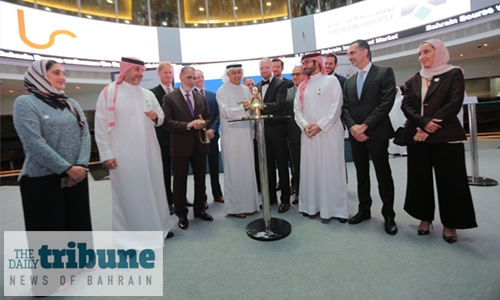 Bahrain Bourse (BHB) announced yesterday the listing of the first company on Bahrain Investment Market (BIM) "Sprinkle Holding BSC (closed)" a specialized FinTech company, under the trading symbol SPKL.
A ringing bell ceremony was held to mark the commencement of trading on SPKL shares in the presence of Zayed bin Rashid Alzayani, Minister of Industry, Commerce, & Tourism and Minister in Charge of Bahrain Bourse.
Aymen bin Tawfeeq Almoayyed, Minister of Youth and Sports Affairs, along with Alexander Wallin and Tomas Wallin, CEO and Chairman of Sprinkle Holding, and senior officials of Bahrain Bourse and members of Almoayed Chambers, the Authorized Sponsor, along with various stakeholders were present.
Sh. Khalifa Bin Ebrahim Al Khalifa, Chief Executive Officer of Bahrain Bourse, said: "Sprinkle Holding is currently listing as a closed company, and aims to raise capital through public offering within the next two years.." Alexander Wallin, Chief Executive Officer of Sprinkle Holding, said that he sees a bright future in Bahrain with Fintech.
"We wish to be a part of the movement which puts Bahrain at the forefront of global Fintech for a long time to come." Maria Liasides, Chairperson of Almoayed Chambers, the Authorized Sponsor, expressed confidence that this monumental listing will pave the way for future listings and also create awareness of this unique platform introduced by Bahrain Bourse to facilitate economic growth in the SME sector.