Bahrain mourns loss of third BDF soldier
TDT | Manama
The Daily Tribune – www.newsofbahrain.com
Bahrain yesterday said that a third member of its contingent in the Saudi-led coalition battling Yemen's Houthi rebels has been martyred following an attack that took place in Saudi Arabia earlier this week.
General Command of the Bahrain Defense Force (BDF) said the body of the martyr Adam Salem Nasib was brought to the Kingdom in a military plane of the Royal Bahraini Air Force (RBAF) at the Isa Air Base, and special military ceremonies were held to receive him in the presence of senior BDF officers and family and relatives.
BDF Chief of Staff Lieutenant General Theyab bin Saqr Al Nuaimi was present to receive the martyr's body and to convey the condolences and sympathy of His Majesty King Hamad bin Isa Al Khalifa, the Supreme Commander of the Armed Forces; and His Royal Highness Prince Salman bin Hamad Al Khalifa, the Crown Prince, Deputy Supreme Commander of the Armed Forces, and the Prime Minister; and HE.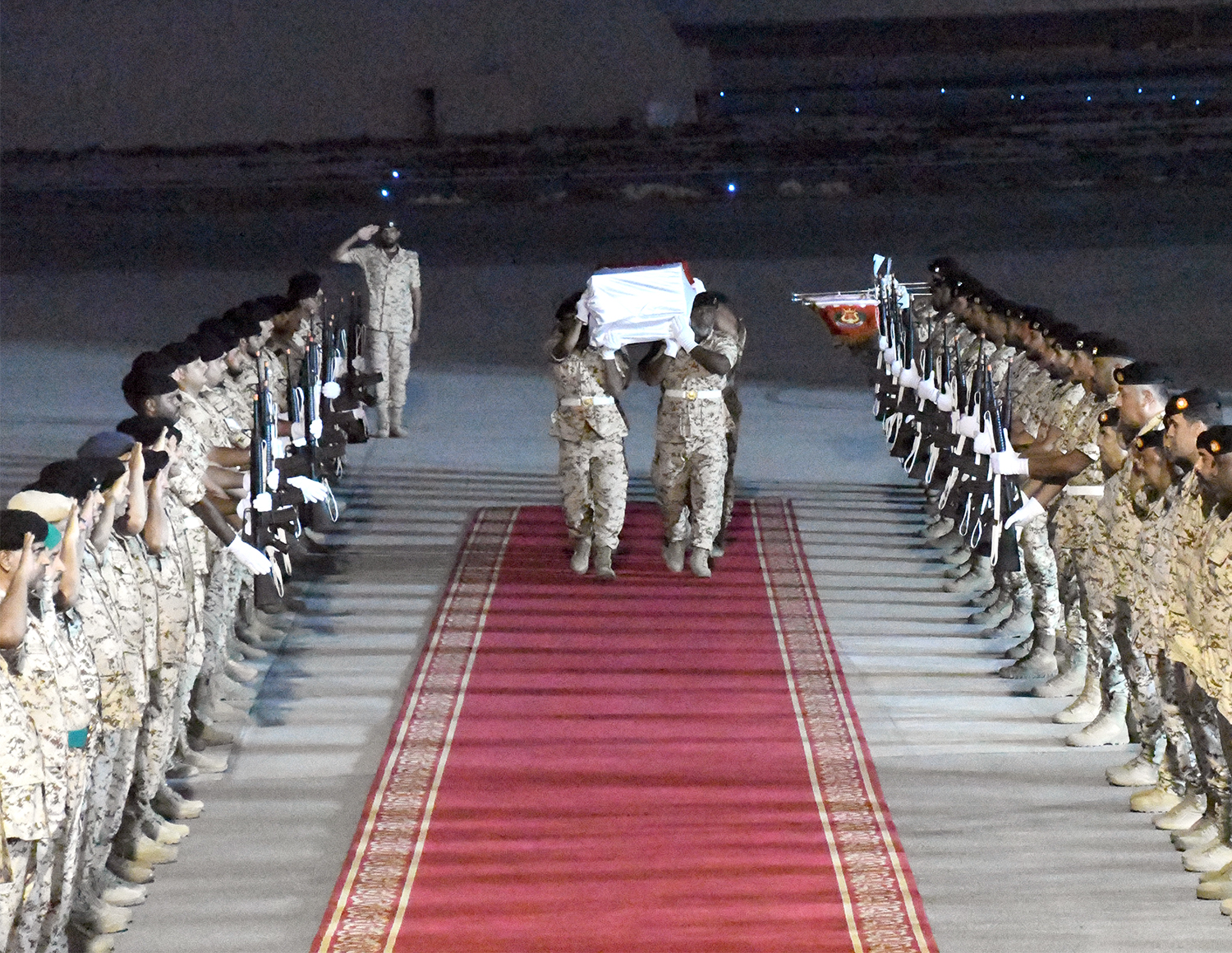 Field Marshal Shaikh Khalifa bin Ahmed Al Khalifa, Commander-in-Chief of the BDF, to the family of the martyr of national duty.
Through the statement, HE the Chief of Staff also expressed his sincere condolences and sympathy to the families of the martyrs of national duty and his prayers for a speedy recovery for the wounded and the injured.
Bahrain had announced the martyrdom of two of its soldiers posted near the Saudi border with Yemen on Monday after Houthi rebels carried out drone attacks even as peace talks were going on.
Saudi Arabia, the United States, France, and the United Nations condemned the attack, with Washington blaming the Houthi rebels.
Bahrain has taken part in the military intervention spearheaded by Saudi Arabia since 2015 in support of the Yemeni government against the rebels.
A Houthi delegation had held five days of talks in Saudi Arabia earlier this month aimed at consolidating a UN-brokered ceasefire.