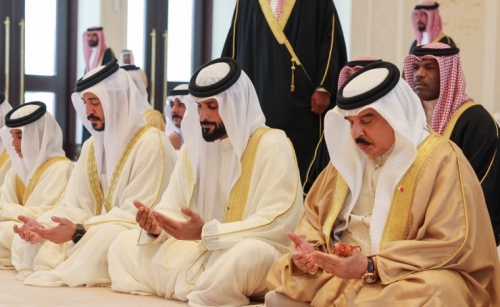 Bahrain King performs prayer marking Prophet's birthday
Agencies | Manama
The Daily Tribune – www.newsofbahrain.com
His Majesty King Hamad bin Isa Al Khalifa has yesterday performed afternoon prayer at Sakhir Palace mosque, alongside their Highnesses members of the Royal Family, and scholars, marking the anniversary of the Prophet's Birthday.
A sermon was delivered by Dr. Sheikh Rashid bin Mohammed Al Hajeri, the Sunni Endowments Council Chairman, who spoke about the life and virtues of Prophet Muhammad (PBUH).
Dr. Al Hajeri prayed to Allah the Almighty to protect HM the King and bless the Kingdom of Bahrain with security and stability under his wise leadership.
He also prayed to Allah the Almighty to protect the members of the Bahrain's servicemen in the line of duty, and that he may rest the fallen servicemen in eternal peace.
Dr. Al Hajeri expressed his condolences to HM King Hamad following the act of aggression that resulted in the loss of a number of BDF servicemen, who were participating in the Arab Coalition's operations Decisive Storm and Restoring Hope.
The attendees also extended to HM the King congratulations on the anniversary of the Prophet's birthday.
On this occasion, HM King congratulated the attendees on the anniversary of the Prophet's birthday and wishing many happy returns to Bahrain and its people, and the Arab and Islamic nations, and to all of humanity with security and peace.
HM the King said that the Prophet Mohammed's birthday was an occasion to recount his virtues which inspire honourable values and promote brotherhood, coexistence, tolerance, love, and peace.
Muslims emulated the teachings of the Prophet and build upon the foundations that he has established to create develop Arab and Muslim civilisations that took pride in Islam and adherence to the Book of God Almighty and the Sunnah of the Prophet, HM the King said.
HM King Hamad emphasised Bahrain's role as a hub for pluralism, cultural convergence, and religious coexistence.
The people of Bahrain have historically demonstrated brotherhood, affection, and respect for all religions, rooted in Islamic law and respect for all peoples, HM said.
Dr. Al Hajeri presented HM the King with a copy of his book on the mosques of the Kingdom of Bahrain built during the leadership of HM the King.