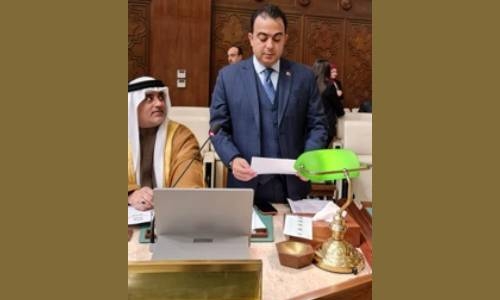 Royal directives 'basis' to support joint Arab action
Agencies | Cairo
The Daily Tribune – www.newsofbahrain.com
His Majesty King Hamad bin Isa Al Khalifa's directives are Bahrain's basis for supporting joint Arab action. Shura Council member and Arab Parliament member Ali Abdulla Al Aradi said that the Kingdom's legislative branch places Arab and Islamic issues among its priorities at regional and global gatherings.
Al Aradi was speaking as he took the official oath as member of the Arab Parliament (AP) during a meeting held under the chairmanship of Speaker Adel bin Abdulrahman Al Asoom as part of the third session of AP's third legislative term.
Al Aradi affirmed the important role played by the AP to serve the common interests of Arab countries and citizens. He highlighted the efforts being made by the Arab Parliament to cooperate with the relevant international parliamentary organisations to serve Arab issues, and counter fallacies and campaigns aimed at subverting Arab security and stability, or directly interfering in Arab countries' domestic affairs. Al Aradi pledged to do his utmost, as an AP member, to contribute to bringing about more achievements.