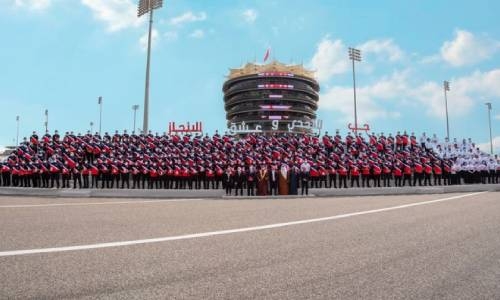 HRH Prince Salman medal a 'wonderful incentive'
TDT | Manama
The Daily Tribune – www.newsofbahrain.com
Bahrain International Circuit (BIC) Chief Executive, Shaikh Salman bin Isa Al Khalifa, expressed his congratulations to all the recipients of the Prince Salman bin Hamad Medal for Medical Merit, and praised the role of BIC affiliates who contributed to addressing the pandemic.
The BIC Chief Executive indicated that maintaining what has been achieved to date requires even more work to reach the desired successes, and expressed great thanks to the team at BIC, who made double efforts in order to continue addressing the virus.
He noted that these great efforts of the BIC team, who have devoted their time since the early days of the pandemic, have included establishing and operating a number of COVID-19 testing and vaccination centres, and the achievement of the team of BIC engineers who designed the first local respirator in a record period of time.
For their part, the BIC team members said they were privileged to receive the Prince Salman bin Hamad Medal for Medical Merit, and expressed great pride in the high honour. They stressed that the medal is a wonderful incentive to continue to work and serve the country.
Speaking to The Daily Tribune, on the sidelines of the event, Beshara Abdu Beshara, BIC safety and security , government affairs senior manager, said the preparations are in full swing to ensure the safety of everyone.
"This is the main international event hosted by Bahrain and we have adopted the best of safety and security measures matching the best of world standards. We are frequently coordinating with the Ministry of Interior and the Ministry of Health to ensure all safety measures are on track.
"Of course, there are challenges as we live in the middle of a pandemic situation. But we are fully prepared to overcome those challenges by adopting the best of safety measures," he added.